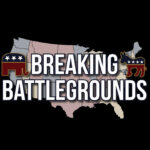 This week on
Breaking Battlegrounds
, Chuck and Sam take a break from
politics
to spread a little Christmas cheer and highlight the important work some local charities are doing to help our community.
First, we are joined by Tim Barry of HOPE for the Homeless. HOPE for the Homeless organizes Recovery meetings and brings them to the Homeless where they gather, like the Andre House and C.A.S.S.. They also support those meeting attendees with food, blankets, clothes, new socks/underwear, toiletries and other basic necessities that we package in our HOPE bags. Visit hope4thehomelessaz.com to learn more and to get involved.
Later in the show, Jerry Brown of St. Mary's Food Bank calls in. St. Mary's Food Bank serves to alleviate hunger through the gathering and distribution of food while encouraging self-sufficiency, collaboration, advocacy and education. They are one of the largest food banks in the United States, and proud of the impact it has had on Arizona — and the world. Visit firstfoodbank.org to learn more and to get involved.
Finally, But Richards of Packages From Home joins the show. Packages From Home serves Active Duty US military members stationed or deployed overseas (to include military working dogs & military K9 teams) as well as homeless, transitioning, and at-risk veterans by providing them with requested food, hygiene, and entertainment items to boost morale and quality of life. Visit packagesfromhome.org to learn more and to get involved.
Listen to Breaking Battlegrounds Podcast on
Spotify Podcasts: https://spoti.fi/3SVvOF4
Apple Podcasts: https://apple.co/3eeEis7