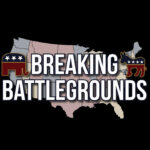 This week on
Breaking Battlegrounds
, Chuck and Sam re joined by Andy Gould, former
Arizona
Supreme Court Justice and current candidate for
Attorney General
. Later in the show, Maricopa County Recorder Stephen Richer stops by the studio to give us an update on this year's primary election.
Andy's path to public service began with his parents. Growing up, the Gould family never had a lot of material success, but they were rich in far greater ways. Andy's parents were good, hard-working people of great faith who stressed the importance of integrity, honesty and humility – values that inspired him to pursue a career in law.
As a prosecutor in Yuma, Andy tried every type of criminal case imaginable, including the prosecution of criminal organizations located in Mexico. In 2001, Andy was appointed by the Governor to fill a vacant seat on the Yuma County Superior Court, where he served in that capacity for eleven years. In 2006, while serving on the Superior Court bench, he was appointed as the Presiding Judge for Yuma County. In 2012, Andy was appointed to the Arizona Court of Appeals until he was given the honor of being appointed as Justice to the Arizona Supreme Court in 2016.
Arizona needs an Attorney General who will be ready on day one to go to court and fight for their rights, and Andy Gould is the right person for the job. Andy understands the legal challenges facing Arizona because he has spent more than 30 years addressing and presiding over the most complex civil and criminal cases in the State.
To show his commitment, Andy has stepped down from the Arizona Supreme Court – a decision that not many before him have made. But to quote Thomas Paine, "these are the times that try men's souls." Arizona needs leaders who are willing to sacrifice something for its people, and Andy Gould has proven he will do just that.
Stephen took office as the 30th Maricopa County Recorder on January 4, 2021. As Maricopa County Recorder, Stephen oversees a staff of approximately 165 full time employees who record over 1 million public documents annually, maintain the county's voter registration database of 2.6 million voters (second largest voting jurisdiction in the United States), and, together with the County Supervisors, administer elections for 62% of Arizona's voters.
Prior to taking office, Stephen worked as a transactional lawyer, first at a large international law firm headquartered in Washington, DC, and later at a southwest law firm headquartered in Phoenix, Arizona. Stephen has also accrued significant business experience, having started or managed several businesses.
The race for the Recorder's Office was Stephen's first foray into elected politics. He won the August 2020 Republican primary by the largest margin of any countywide race, and he defeated the incumbent Democrat in November 3, 2020 general election in a year when Maricopa County chose the Democrat candidates in the presidential and U.S. Senate races by significant margins.
Stephen holds a B.A. from Tulane University and a M.A. and J.D. from The University of Chicago. Stephen lives in South Phoenix with his wife, Lindsay, whom he met at The University of Chicago Law School.
Listen to Breaking Battlegrounds Podcast on
Spotify Podcasts: https://spoti.fi/3SVvOF4
Apple Podcasts: https://apple.co/3eeEis7