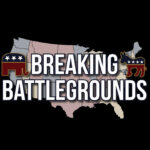 This week on Breaking Battlegrounds, Chuck is out of the studio but Sam is joined by friend of the show, former Arizona State Legislator Michelle Ugenti-Rita. Sam and Michelle speak to Ann Atkinson who organized a Health, Wealth, and Happiness program at Arizona State University which featured prominent conservative speakers and was met with intense opposition from the left. Later in the show, Christina Eichelkraut returns to offer a unique perspective on the impact of artificial intelligence.
Ann Atkinson is the former Executive Director of the T.W. Lewis Center for Personal Development at Barrett, the Honors College. Ann is a Barrett alumna, entrepreneur, former public company executive, frequent public speaker, healthcare real estate expert, wife, mother, and triathlete. She has regularly volunteered for the Lewis Center, which has helped fulfill her passion to better prepare students for the challenges and opportunities of life.
Ann earned a Bachelor of Science in Finance from ASU, where she graduated from Barrett, the Honors College and with honors from the W.P. Carey School of Business. She was introduced to commercial real estate through her Barrett honors internship, which led to a distinguished 17-year career in healthcare real estate. She most recently founded and led a privately-held national healthcare real estate investment firm. Previously, she was an executive officer for a healthcare real estate investment trust listed on the New York Stock Exchange, where she led acquisitions and dispositions on behalf of the company. Formerly, she worked for Jerry Colangelo, David Eaton, and Mel Shultz of JDM Partners, specializing in commercial real estate investments. Ann started her career with a national commercial real estate brokerage firm, specializing in office and medical office investment sales.