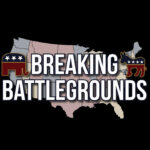 This week on Breaking Battlegrounds, Chuck and Sam are joined by Austin Knudsen, Republican Attorney General for Montana. Later in the show, Michael McKenna of the Washington Times calls into the show.
–
Austin Knudsen grew up just outside of Culbertson, in the northeast corner of Montana, where his family has farmed and ranched for five generations. Austin grew up participating in 4-H, raising steers to show at the fair, and Future Farmers of America (FFA) throughout high school. In fact, Austin met his wife, Christie, while they both served as FFA State Officers during their freshman year at Montana State University-Bozeman.
Austin put himself through college in Bozeman working jobs at the local butcher shop and a hardware store, and returning each summer to work on the family farm and ranch, growing wheat and sugar beets, and raising angus cattle. Austin and Christie were married shortly after graduation and moved to Missoula where Austin earned his law degree from the University of Montana.
After law school, Austin and Christie moved their young family back to the farm and ranch where Austin worked at a law firm in Plentywood before opening his own practice in Culbertson. As a private attorney, Austin represented just about every kind of legal case imaginable, including estate planning, probate, civil litigation, land use, oil and gas, and real estate transactions.
In 2010, Austin defeated a two-term incumbent and was elected to serve as the Representative for House District 34. While serving in Helena, Austin quickly noticed the extent of the disconnect between Helena bureaucrats and the political insiders and the rest of the people across Montana, so he pursued leadership roles in his caucus and was elected Speaker Pro Tempore during his second session. During his third and fourth sessions in 2015 and 2017, Austin was elected by all 100 members of the House of Representatives to lead them as Speaker of the House. Austin was one of the youngest people to serve as Speaker in Montana history — and in the nation. Austin was also the only two-term Speaker since term limits were imposed.
The Knudsen family lived just about as far from Helena as any other legislator, so during the sessions Austin and Christie and their three kids — Leah, Connor, and Reagan — would move as a family to Helena. As a Legislator and Speaker, Austin worked to ensure his constituents had a voice, and that taxpayers were getting the most out of the hard-earned money they send to the state. In addition to his maximum four legislative sessions, Austin presided over a 2017 Special Session in which he led a united Republican caucus to defeat multiple tax increase attempts by the Governor.
Back in Culbertson as a private attorney, Austin was astounded by the lack of prosecutions coming out of the County Attorney's office, and the illegal drugs and related crime that was devastating his community. Following a drive-by shooting outside of their kids' school, Austin and Christie knew they had to do more to make their community safe, and in 2018 Austin was elected Roosevelt County Attorney.
As a county prosecutor, Austin worked hand-in-hand with the full range of law enforcement personnel, including on the Fort Peck Reservation, to ramp up prosecutions and put violent offenders behind bars. In 2020, Austin ran for Montana Attorney General because the illegal drug pandemic and resulting violence are a statewide problem. In fact, violent crime has increased more than 30% in just over a decade.
As Attorney General, Austin has made combating the drug pandemic and supporting law enforcement a main focus — ensuring that Montana is a safe place to live and raise a family.
–
Michael McKenna, a columnist for The Washington Times, is the president of MWR Strategies. He was most recently a deputy assistant to the president and deputy director of the Office of Legislative Affairs at the White House. He can be reached at [email protected].
Listen to Breaking Battlegrounds Podcast on
Spotify Podcasts: https://spoti.fi/3SVvOF4
Apple Podcasts: https://apple.co/3eeEis7