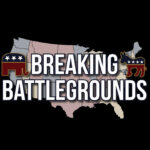 This week on
Breaking Battlegrounds
, Chuck and Sam are joined by two fantastic guest. Ben Leuschner, president of the Phoenix Police Sergeants and Lieutenants Association joins us first in the studio to talk about how the current political climate is affect our police officers and what that means for your safety. Later in the show,
Congressman Byron Donalds
of Florida calls in with an inside look at the political dysfunction and partisanship in DC.
Ben Leuschner has been with the Phoenix Police Department for almost 28 years, over 20 of those as a supervisor. He worked in nearly every precinct, as well as in investigations. He has been a member of the Phoenix Police Sergeants and Lieutenants Association Executive Board since 2013 and in that time he has seen the damage that can be caused by an ineffective union and a lack of competent representation. He has been a PPSLA representative for almost 9 years and, now that he has been elected President, he is committed to providing outstanding representation to PPSLA members and ensuring that PPSLA is transparent, accountable, and responsive to the needs to its members.
–
Congressman Byron Donalds grew up in Brooklyn, New York, and he is also the proud son of a hardworking and loving single mother. His mother dedicated her time instilling in him that greatness requires sacrifice, which drives him as a devoted family man and United States Congressman.
Byron is a graduate of Florida State University and received a Bachelor of Arts degree in finance and marketing. Byron's career led him to Southwest Florida, where he worked in the banking, finance, and insurance industries. Elected to the Florida House of Representatives in 2016, Byron represented Hendry County and east Collier County in the State Capitol. During his tenure in the Florida House, Byron served as the PreK-12 Quality Subcommittee Chair during the 2018-2019 Legislative Session and served as the Insurance & Banking Subcommittee's Chairman 2019-2020 Legislative Session. While serving in the Florida House, primarily focused on elder affairs, criminal justice reform, and ensuring that each child has access to a world-class education.
Byron is committed to serving and giving back to the community that gave him so much. He has served Southwest Florida in many ways, including previously serving on the Board of Trustees for Florida Southwestern State College after being appointed by then-Governor Rick Scott. Byron continues to volunteer in his church as a youth leader and a mentor. He also enjoys volunteering as a coach in youth football and basketball leagues.
Congressman Byron Donalds lives in Naples, Florida, with his wife, Erika, and their three sons: Damon, Darin, and Mason. Byron has spent his entire adult life serving others, whether it be through volunteering, business, or leadership. He is committed to representing Florida's 19th Congressional District's conservative values in Washington DC to ensure a stronger Florida and a stronger nation.
Listen to Breaking Battlegrounds Podcast on
Spotify Podcasts: https://spoti.fi/3SVvOF4
Apple Podcasts: https://apple.co/3eeEis7