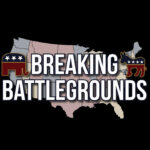 This week on
Breaking Battlegrounds
, we have a packed show! First, we are joined by Robert Knight, a weekly columnist for The Washington Times and senior fellow of the American Civil Rights Union. Later in the program, freelance writer and podcaster Bill Scher returns to the show. Finally, we talk with Andrew Mack, founder and CEO of the agtech startup Agromovil.
Robert Knight is a former Los Angeles Times news editor and writer and was a Media Fellow at the Hoover Institution at Stanford University. He is a regular weekly columnist for The Washington Times, American Family News (afn.net), DailySurge.com and others. He has been published by the Wall Street Journal, National Review, the Christian Post, AmericanThinker.com, DailyCaller.com and many others. He has appeared on nearly all major radio and TV news and talk programs.
Robert was a journalist for 15 years, including seven at the Los Angeles Times. He has B.S. and M.S. degrees in Political Science from American University. Mr. Knight, who is a writer for the Timothy Plan and a Senior Fellow for STAND (Staying True to America's National Destiny), has held senior positions at the American Civil Rights Union, the Family Research Council, the Culture & Family Institute at Concerned Women for America, the Heritage Foundation, Coral Ridge Ministries, and the Media Research Center.
He wrote and directed the documentary videos "The Children of Table 34," about sex researcher Alfred Kinsey, and "Hidden Truth: What You Deserve to Know about Abortion." His first book, "The Age of Consent," was a Main Selection of the Conservative Book Club.
He has co-authored three books and written 10, including "Liberty on the Brink: How the Left Plans to Steal Your Vote" (D. James Kennedy Ministries, 2020) and "The Coming Communist Wave: What Happens If the Left Captures All Three Branches of Government" (D. James Kennedy Ministries, 2020).
Bill Scher is a freelance writer and podcaster exploring politics and history through the lens of pragmatism. He is a Contributing Editor to Politico Magazine and a Contributor to Real Clear Politics. He is the host of the history podcast "When America Worked: True Tales of America's Pragmatist Heroes," as well as co-host of "The DMZ" online show and podcast with conservative writer Matt Lewis produced by Bloggingheads.tv. In 2006, he authored the book "Wait, Don't Move To Canada: A Stay-and-Fight Strategy To Win Back America," which later became an answer on "Jeopardy!" You can follow his political commentary on YouTube and Twitter, and support his work through Patreon.
Andrew Mack is the founder and CEO of Agromovil, an agtech startup that connects farmers with markets and provides enterprises with analytics about production – to plan, manage risk, and track their impact. Through software tools that create visibility and insights at scale, Agromovil is helping unlock trapped value across the $1T small agriculture industry around the world.
Mack has also served as Principal of AMGlobal Consulting, a Washington, DC-based consulting firm that helps companies and NGOs do more business – and better business – in Emerging Markets. Leveraging partnerships, smart Corporate Social Responsibility, technology and new approaches like microfranchising, Mack works to unlock the tremendous entrepreneurial energy in the Global South to achieve lasting social and economic outcomes.
A former World Bank project manager and banker with experience in more than 80 countries, Mack is internationally-recognized for his work on economic development issues and technology policy in Africa, Latin America and other underserved regions. Mack has worked with clients including Fortune 100 corporations like Chevron, Oracle, and Motorola, as well as the World Bank, the UN, African Union, OAS, USAID, and international NGOs, and is a frequent speaker at conferences and on radio and television in emerging markets. He has also advised the international Internet body ICANN, leading initiatives aimed at promoting developing country participation in Internet governance and increasing access for underserved communities.
Mr. Mack holds a Bachelor of Arts Magna Cum Laude from Amherst College and a Masters in International Relations/International Economics from the Johns Hopkins School of Advanced International Studies. He speaks and works in Spanish, French and Portuguese.
An avid soccer player and fan, Andrew loves support his hometown team DC United. He is also an enthusiastic (if not always skillful) percussionist and blues harmonica player.
Listen to Breaking Battlegrounds Podcast on
Spotify Podcasts: https://spoti.fi/3SVvOF4
Apple Podcasts: https://apple.co/3eeEis7