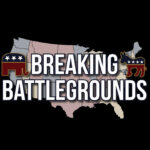 This week on
Breaking Battlegrounds
, Chuck and Sam are joined first by Republican candidate for United States Senate in Arizona,
Blake Masters
. Later in the program, Congressman Drew Ferguson of Georgia calls into the show. Finally, we are joined in studio by Timothy Sandefur of the Goldwater Institute.
–
Blake grew up in Tucson, Arizona. In 2012, he married his high school sweetheart, Catherine. Happily married for 10 years now, Blake and Catherine are raising and homeschooling their three beautiful boys, Miles, Graham, and Rex. After graduating from Stanford and Stanford Law School, Blake co-founded a successful software startup called Judicata. In 2014, he co-authored the #1 New York Times bestseller Zero to One. Having sold more than 4 million copies, it's the world's most popular book on startups and venture capital. In 2015 Blake became President of the Thiel Foundation, a nonprofit that promotes science and innovation. The Foundation's Thiel Fellowship Program has paid 225 young people to drop out of college so that they can create new companies. Businesses started by Thiel Fellows are together now worth more than $45 billion! From 2018 to 2022, Blake was Chief Operating Officer at Thiel Capital, an investment firm that specializes in the technology sector, where he helped grow assets under management by billions of dollars. Blake also joined President Trump's transition team in 2016. Blake saw firsthand how deep The Swamp really is and how establishment forces immediately tried to undermine President Trump's MAGA agenda. Now Blake is putting his successful business career on hold to represent Arizona in the U.S. Senate because the same old establishment politicians and the same old establishment candidates have failed us. He brings a wealth of experience to the table on how to defeat not just the progressive Democrats, but also the weak and compromised RINO Republicans. America is in decline and the world is a dangerous place. Blake uniquely understands the modern threats that we face. At home, we see an unholy alliance between Big Government, Big Tech and Big Business, who collude to wreak havoc on our economy, destroy our border, impose their radically liberal ideology on our culture, and censor any dissent. Blake uniquely gets how this regime, working hand in hand with the Democrats, is weaponizing technology to destroy America as we know it. Abroad, we see the menace of authoritarian countries like China. Blake has an unrivaled understanding of how China uses technology to not only control and terrorize its own citizens, but also to steal our intellectual property and wage digital warfare against America. As a father, Blake's #1 priority is to ensure America (and Arizona!) remains the best place in the world to raise a family. To do that, we need to make sure America is still recognizable by the time our children are grown. Blake will lead as we fight for our culture. The failures of current leaders like Joe Biden and Mark Kelly have made our situation dire. But Blake rejects the feelings of hopelessness that they are pushing on us. Blake knows that we can win, and we must win. But winning requires electing innovative leaders who truly understand what is happening in this country, and how to restore American freedom and greatness. As a lifelong Arizonan and someone with deep experience in business and the technology industry, Blake is the only one in this race with the necessary skills and background to win the fight in Washington.
–
Congressman Ferguson represents Georgia's 3rd Congressional District and is the Chief Deputy Whip for House Republicans. He also serves on the Committee on Ways and Means.
Congressman Drew Ferguson is a proud native of West Point whose family roots in the West Georgia area are several generations deep. He attended the University of Georgia and gained early acceptance to the Medical College of Georgia. After graduating with a degree in dental medicine, he moved back to his hometown and established a successful family dental practice. In 2008, Congressman Ferguson was elected mayor of West Point and was at the forefront of attracting and keeping jobs in his community. By lowering taxes, eliminating government barriers and reforming education, he led a community in economic ruin back to life. Today, a wide range of new businesses and industries call West Point and the surrounding area home. Led by KIA Motors, automotive suppliers and related businesses, 16,000 new jobs have been created so far. Congressman Ferguson came to Washington to apply the lessons he learned revitalizing West Point to creating policies that once again make America the most competitive place to do business. Just as important as the creation of jobs, Congressman Ferguson wants to remove barriers that prevent those in poverty from moving into the middle class. Smart and effective welfare entitlement reform that actually helps people move ahead rather than trapping them in a cycle of poverty is the first step. Congressman Ferguson believes these problems cannot simply be regulated away, but should look for solutions that get government out of the way of American innovation growth. This is as much a moral issue as it is a practical matter. Drew and his wife, Julie, reside in The Rock, Georgia, and together they have six children: Anderson Drew Ferguson V, Lucy, Mary Parks, Thad, Elizabeth, and Olivia.
–
Timothy Sandefur is the Vice President for Legal Affairs at the Goldwater Institute's Scharf-Norton Center for Constitutional Litigation and holds the Duncan Chair in Constitutional Government. He litigates important cases for economic liberty, private property rights, free speech, and other matters in states across the country.
Timothy is the author of several books, including Frederick Douglass: Self-Made Man (2018), Cornerstone of Liberty: Property Rights in 21st Century America (coauthored with Christina Sandefur, 2016), The Permission Society (2016), The Conscience of The Constitution (2014), and The Right to Earn A Living (2010), as well as more than 50 scholarly articles on subjects ranging from Indian law and antitrust to copyright law, the constitutional issues involved in the Civil War, and the political philosophy of Shakespeare, ancient Greek drama, and Star Trek. A frequent guest on radio and television, he is well known to radio audiences as "Tim the Lawyer" on the Armstrong and Getty Program, and his writings have appeared in Reason, National Review, the Claremont Review of Books, The Weekly Standard, The Wall Street Journal, The San Francisco Chronicle, and The Objective Standard, where he is a contributing editor. He teaches public interest litigation at George Mason University's Antonin Scalia Law School.
He is an Adjunct Scholar with the Cato Institute and is a graduate of Hillsdale College and Chapman University School of Law.
Listen to Breaking Battlegrounds Podcast on
Spotify Podcasts: https://spoti.fi/3SVvOF4
Apple Podcasts: https://apple.co/3eeEis7