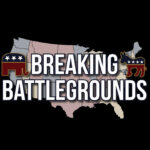 This week on
Breaking Battlegrounds
, Chuck and Sam are joined by Martin DiCaro of The Washington Times and Adam Coleman, founder of Wrong Speak Publishing for a freedom-themed Fourth of July weekend special.
Martin Di Caro brings 25 years of broadcast journalism experience to the Washington Times. He has won numerous prestigious awards throughout his career in major media markets across the country. Before coming to the Times, Martin was a news anchor at Bloomberg Radio's Washington bureau. From 2012 to 2017, he covered transportation at NPR member station WAMU 88.5 in Washington, where his work on the yearslong Metrorail crisis earned Martin his second Edward R. Murrow award, which included hosting the radio station's first podcast, Metropocalypse. Martin worked as a reporter for AP Radio in New York and Washington for eight years starting in 2008. He lives in the Columbia Heights neighborhood of D.C. and his interests include reading history and following his beloved New York Jets.
Adam B. Coleman is the Author of "Black Victim To Black Victor", Op-Ed Writer, Public Speaker, Host of "A Good Faith Space" Twitter Spaces show, and the Founder of Wrong Speak Publishing.
Adam was born in Detroit but raised in a variety of states throughout America. He writes openly about his struggles with fatherlessness, homelessness, and masculinity.
He is always questioning the world around him, even if they are uncomfortable questions to ask.
He strongly believes that we should all have the ability to speak freely and is now advocating for people who feel voiceless to be heard.
He is attempting to help change the narrative and the way we discuss cultural narratives by being honest, humble, and resolute.
His articles have been published in The New York Post, Newsweek, The Post Millennial, The Federalist, Unherd, ScoonTV, Free Black Thought & Human Defense Initiative.
He has also appeared on Newsmax, The Hill's "Rising" and "Fox & Friends" on FOX News.
Listen to Breaking Battlegrounds Podcast on
Spotify Podcasts: https://spoti.fi/3SVvOF4
Apple Podcasts: https://apple.co/3eeEis7