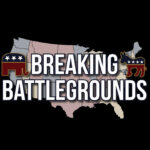 This week on Breaking Battlegrounds, we take a break from politics to put the spotlight on people who are working to make the world a better place. First, we are joined by Jacqueline Way, a world-renowned keynote speaker. Later in the program, of the Huntsman Foundation calls in to discuss their work to combat stigma around mental health challenges.
Jacqueline Way is a world-renowned keynote speaker with one of the most watched TEDx Talks "How to Be Happy Every Day – It Will Change the World." She is a dedicated world changer serving humanity with love every day. Her soul purpose is to teach, inspire and empower the hearts and minds of people globally to create a happy, meaningful life and world together. She expresses her purpose through her global giving movement 365give. The charitable organization was created with her 3-year old son with a simple vision to "Change the World 1 give, 1 day at time." She is committed to living the highest expression of who she is through her work, family and by touching the lives of others.
Christina Durham is the Vice Chairwoman of the Huntsman Foundation. Christena serves on the boards of several charitable organizations, including the Huntsman Foundation, The Road Home, the Huntsman World Senior Games, the Carmen Pingree School for Autism, and the Moran Eye Center, and is committed to serving others. Christena is the mother of seven children and grandmother to several grandchildren.
Listen to Breaking Battlegrounds Podcast on
Spotify Podcasts: https://spoti.fi/3SVvOF4
Apple Podcasts: https://apple.co/3eeEis