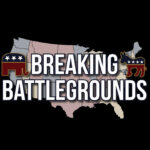 This week on
Breaking Battlegrounds
, Chuck and Sam have an all-star guest line up. First, Congressman Burgess Owens calls us from the Republican cloakroom as he prepares for a vote on the Democrats' controversial abortion bill. Later in the show, we are joined by Jackie Toledo, current Republican member of Florida's House of Representatives and candidate for Congress. Through it all, we are joined in studio by Mark DeLuzio,
Republican
candidate for Congress in Arizona's Second Congressional District.
–
Mark DeLuzio was the first in his family to earn a college degree. After college, Mark was successful in the corporate world, advising senior executives on strategy and tactics in a multitude of diverse industries. For the past 20 years, Mark has been a successful entrepreneur as the founder of a global management consulting company and has received international acclaim as a leader in his field. Mark has been married to his college sweetheart, Diane, for 41 years. They have two sons, Scott and Steven, who joined the military after the 9-11 terrorist attacks. Steve was killed in action in Afghanistan while his brother Scott was fighting just miles away. Like their two sons, Mark and his wife continue to give back to America by dedicating themselves to various military charities. Mark has also helped countless Veterans to start successful businesses. When elected, Mark will be the first Gold Star Father to serve in the US Congress. Mark and Diane have three beautiful grandchildren who are the joy of their lives.
–
Burgess Owens is the Congressman from Utah's Fourth Congressional District. Born in the segregated South, he saw people of all backgrounds come together to work tirelessly against adversity.
As a young man, Burgess was one of the first four black athletes recruited to play football at the University of Miami and the third black student there to receive a scholarship. He was the 13th pick in the first round of the 1973 NFL draft and joined the New York Jets, later playing safety for ten seasons in the NFL for the New York Jets and the Oakland Raiders, winning the Superbowl with the 1980 Raiders' team.
After retiring from the NFL, Burgess worked in the corporate sales world and eventually moved the Owens family to beautiful Utah. Before being elected to Congress, he started Second Chance 4 Youth, a non-profit dedicated to helping troubled and incarcerated youth.
Burgess now serves as a member of the House Education and Labor Committee and House Judiciary Committee. Burgess believes in dreaming big and follows the four guiding principles of faith, family, free markets, and education.
–
Representative Jackie Toledo is a Member of the Florida House of Representatives in the 60th District which includes Town 'n Country, South Tampa, and a stretch of the coast in Southern Hillsborough County to Ruskin. She's a single mother of five with an adopted son and serving. She's also an engineer by trade… not a lawyer. She was born in Lima, Peru.
Listen to Breaking Battlegrounds Podcast on
Spotify Podcasts: https://spoti.fi/3SVvOF4
Apple Podcasts: https://apple.co/3eeEis7