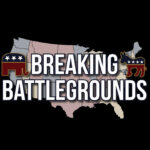 This week on Breaking Battlegrounds, we are joined by Chris Buskirk, author of the new book America and the Art of the Possible: Restoring National Vitality in an Age of Decay. Later in the show, Jonathan Johnson, CEO of Overstock, returns to the show to talk about challenges and opportunities facing business leaders in 2023.
Chris is publisher of American Greatness. A contributing opinion writer for the New York Times, he has also written for the Washington Post, SpectatorWorld, USA Today, The Hill, The New Criterion, and other publications. He is a frequent contributor to Fox News, NPR's "Morning Edition," PBS Newshour, and "Hardball" and regularly appears on CNN. He is the author of the book, Trump vs. The Leviathan and, along with Seth Leibsohn, American Greatness: How Conservatism, Inc. Missed the 2016 Election & What the Establishment Needs to Learn. He was a Publius Fellow at the Claremont Institute and received a fellowship from the Earhart Foundation. Chris is a serial entrepreneur who has built and sold businesses in financial services and digital marketing. He received his B.A. from Claremont-McKenna College.
Jonathan Johnson is the CEO of Overstock, a leading online home furnishings retailer. Since assuming this role in 2019, Johnson has positioned Overstock as more than just an e-commerce website – streamlining its widespread merchandising interests into a concentrated, focused strategy dedicated to providing dream homes for all. Johnson is a member of Overstock's board of directors and has been an integral part of the company's growth – from a start-up to publicly traded with over $3 billion in sales and nearly 2,000 employees. Overstock was recognized as one of the nation's top employers in 2021.
Since joining Overstock in 2002, Johnson has held various positions within the company, including chairman of the board, executive vice chairman, president, and general counsel. He is also a member of the board of directors of The J.M. Smucker Co, a Fortune 500 and leading consumer packaged goods company. He was chosen for this position due, in part, to his innovative FORWARD plan, (Overstock's remote work structure following the COVID pandemic), and his vast supply chain, marketing, operations, general management, technology, finance, and corporate governance experience.
From 2016-2021, Johnson served as president of Medici Ventures, a former Overstock subsidiary which invested in blockchain technology and fintech businesses including tZERO, Bitt, Medici Land Governance, GrainChain, PeerNova, and Voatz. While leading this portfolio of companies, Johnson spent countless hours educating the public and policy makers around the world about the potential of blockchain. In early 2021, Medici's assets were transferred to a venture fund overseen by Pelion Venture Partners.
Prior to Overstock, Johnson worked for TenFold Corporation, practiced corporate law in Los Angeles with two international law firms and served as a judicial clerk at the Utah Supreme Court. Johnson received a bachelor's degree in Japanese from Brigham Young University, studied at Osaka University of Foreign Studies in Japan as a Ministry of Education Scholar, and received a law degree from the J. Reuben Clark Law School at BYU.
Johnson is based in Salt Lake City, UT, where he resides with his wife of 34 years. He has 5 sons, two granddaughters, and enjoys cycling, crossword puzzles, and reading poetry. He is active in many facets of the community.