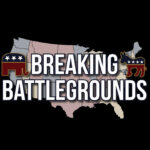 This week on Breaking Battlegrounds, we are honored to be joined by friend of the show, Congressman David Schweikert of Arizona's First Congressional District. Later in the show, we check in with Ilan Wurman, who is working on a critical lawsuit over "The Zone," a homeless encampment in downtown Phoenix.
David Schweikert is serving his fifth term in the United States Congress. He holds a seat on the Ways and Means Committee, and serves as the Ranking Member of the Ways and Means Subcommittee on Social Security. Prior to his service on the Ways and Means Committee, David served on the House Committee on Financial Services.
David also sits on the bicameral Joint Economic Committee, Co-Chairs the Valley Fever Task force with House Minority Leader Kevin McCarthy, and is the Republican Co-Chair of both the Blockchain Caucus, the Tunisia Caucus and the Caucus on Access to Capital and Credit.
Among his legislative accomplishments, David was instrumental in authoring and passing the JOBS ACT into law. The bill was signed by the President in April 2012. Having previously served as Chairman of the EPA Oversight Subcommittee on the Science, Space, and Technology Committee; David championed key reforms such as the Secret Science Reform Act, which has passed the House of Representatives.
A national leader on tribal policy, David draws on a unique background working with Arizona's tribal communities on important priorities. He is always eager to take on a technical challenge.
As a strong advocate for efficiencies in the 21st Century economy, David collaborates with entrepreneurs and innovators in Arizona and around the world on ways to increase trade and drive economic growth. David is the co-chair of the Blockchain Caucus, and has championed technological innovations as the solution to the problems of over-burdensome government regulations.
Ilan Wurman is an associate professor at the Sandra Day O'Connor College of Law at Arizona State University, where he teaches administrative law and constitutional law. He writes primarily on the Fourteenth Amendment, administrative law, separation of powers, and constitutionalism. His academic writing has appeared or is forthcoming in the Yale Law Journal, the Stanford Law Review, the University of Chicago Law Review, the University of Pennsylvania Law Review, the Virginia Law Review, the Duke Law Journal, the Minnesota Law Review, and the Texas Law Review among other journals. He is also the author of A Debt Against the Living: An Introduction to Originalism (Cambridge 2017), and The Second Founding: An Introduction to the Fourteenth Amendment (Cambridge 2020).