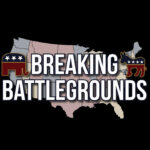 This week on Breaking Battlegrounds, friend of the show Henry Olsen returns with a look at the fight over the debt ceiling. Later, we are honored to be joined in studio by Congressman Dusty Johnson of South Dakota. Finally, we wrap up with a conversation with Monica Eaton, founder of Chargeback 911.
Henry Olsen is a Washington Post columnist and a senior fellow at the Ethics and Public Policy Center. Olsen began his career as a political consultant at the California firm of Hoffenblum-Mollrich. After three years working for the California Assembly Republican Caucus, he returned to school to become a lawyer. Following law school he clerked for the Honorable Danny J. Boggs on the United States Sixth Circuit Court of Appeals and as an associate in the Philadelphia office of Dechert, Price & Rhoads. He then joined the think tank world where he spent the next eighteen years as an executive at a variety of institutions, serving as the President of the Commonwealth Foundation, a Vice President at the Manhattan Institute, and as Vice President and Director, National Research Initiative, at the American Enterprise Institute. He left AEI in 2013 to pursue a career in political analysis and writing at EPPC. During that time his work has appeared in variety of leading publications in America and the United Kingdom. He is the author or co-author of two books, "The Working Class Republican: Ronald Reagan and the Return of Blue-Collar Conservatism" and (with Dante J. Scala) "The Four Faces of the Republican Party". His biennial election predictions have been widely praised for the uncanny accuracy, and he is a frequent guest on television and radio programs. Olsen regularly speaks about American political trends and global populism in the United State, Europe, and Australia.
Dusty Johnson brings an energetic and optimistic style to Washington as South Dakota's lone voice in the U.S. House of Representatives. A "policy guy," he works hard to be a knowledgeable and value-added member on issues related to his two primary committee assignments: Agriculture, Transportation & Infrastructure.
Prior to being elected to Congress, Dusty served as vice president for Vantage Point Solutions, a South Dakota-based engineering and consulting firm specializing in rural telecommunications. Vantage Point has more than 200 employees and helps rural providers design, build, and operate broadband systems in 40 states. Dusty is an expert in state and national telecommunications policy, especially Federal Communications Commission reform efforts and the transformation of the Universal Service Fund.
In 2004, Dusty was elected statewide to the South Dakota Public Utilities Commission. He worked with his colleagues to maintain a fair and reasonable regulatory environment, facilitating the investment of hundreds of millions of dollars into rural energy and telecommunications infrastructure. In 2010, Governor Dennis Daugaard asked Dusty to serve as chief of staff, the chief operating officer for much of state government. In that role, Dusty oversaw many of the Governor's top projects and initiatives, especially those related to infrastructure and public safety.
Dusty grew up in a large working-class family in central South Dakota. He has degrees from the University of South Dakota and the University of Kansas. Dusty has been an active community volunteer, having served as a Sunday School teacher, adjunct faculty member at Dakota Wesleyan University, and president and board member of Abbott House, an agency serving abused and neglected children. He lives in Mitchell with his wife and three sons. As a family, they enjoy hiking, camping, hunting, and reading.
Monica Eaton is an international entrepreneur, speaker, author, and industry thought leader. Monica founded Chargebacks911 in 2011 to provide a solution to merchants suffering from fraudulent chargebacks and since then, has recovered more than $4 billion in revenue for over 1 million businesses and banks through Chargebacks911 for merchants and its sister company, Fi911 for financial institutions. Monica has received dozens of awards for her innovation and has been featured in publications like The Washington Post, Forbes, FinTech Magazine, and Entrepreneur Magazine.