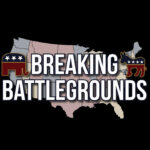 This week on Breaking Battlegrounds, we are joined first by Congressman Keith Self to get his thoughts on the war in Ukraine and the crisis at our own border. Later in show, we check in with Congressman Eli Crane of Arizona's Second Congressional District.
Keith Self was born in a military hospital during his father's service in the United States Army and was raised in Texas. After graduation from High School in Amarillo, he accepted an appointment to The United States Military Academy at West Point, where he began a 25-year career of service to our country.
Keith's Army tours included Airborne Infantry Platoon Leader, Airborne Infantry Company Commander, Special Forces Detachment Commander and Special Forces Company Commander. His service took him to Europe, the Middle East, and the Pentagon, where he worked on the most sensitive military programs. He deployed to Grenada, Bosnia, Afghanistan, and Iraqi Freedom. During his career, Keith received the Master Parachutist Badge, Ranger Tab, Special Forces Tab, and Joint Staff Badge. He retired with the rank of Lieutenant Colonel.
Upon retiring from the Army, Keith was elected County Judge in Collin County, TX, in 2006. He served three consecutive terms before retiring in 2018.
Keith and his wife Tracy have been happily married since his graduation from West Point. They reside in McKinney, TX and are active members in their church and local community.
Born and raised in Arizona, Eli Crane has the privilege of serving as the U.S. Representative for Arizona's Second Congressional District.
A week after the September 11th attacks, Rep. Crane left college during his senior year at the University of Arizona to enlist in the U.S. Navy. During his 13 years in military service, he participated in five wartime deployments – serving three with SEAL Team 3.
In 2012, Rep. Crane and his wife Jen co-founded a veteran-owned and operated small business that manufactures bottle openers made from shell casings. A venture that started in their garage, the business eventually grew to employ dozens and led to a successfully negotiated deal that was televised nationally. They sold the company in 2022.
Eli and Jen live in Arizona with their two daughters, Makenzie and Kennedy.