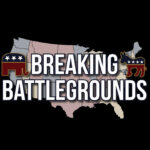 We had two special guests join us for this weeks episode of
Breaking Battlegrounds
with hosts Sam Stone and Chuck Warren. Congresswoman Debbie Lesko joins to talk about border security and her Immigration Bill. Alex Swoyer of the Washington Times joins the show to talk about Supreme Court packing and her experiences living in Washington D.C.
Congresswoman Debbie Lesko serves the people of Arizona Congressional District 8 in the U.S. Congress. Since first being elected, she has been dedicated to helping constituents and addressing issues that affect her district, the state and the nation. From tax relief for working families to removing burdensome regulations on businesses to strengthening our national defense, she is proud of the work she has accomplished. But she believes there is so much more to do especially in the area of improving healthcare, border security and fighting the coronavirus pandemic. Debbie serves on the House Judiciary Committee, House Committee on Homeland Security and House Committee on Rules and is the Republican Co-Chair of the Bipartisan Congressional Caucus on Women's Issues.
Alex Swoyer attended the Missouri School of Journalism where she graduated with a bachelor's degree in journalism with an emphasis in broadcast. After graduating from law school in Florida, she decided to leave the courtroom and return to the newsroom as a legal affairs reporter for The Washington Times. She has experience covering stories in the mid-Missouri, Houston and southwest Florida areas where she worked at local affiliate TV stations and received a First Place Mark of Excellence Award from the Society of Professional Journalists.
Sunshine Moment
Phoenix Police Deparmtent: Info leads to large seizure of dangerous drugs and money at multiple residences in the Mountain View Precinct. Neighborhood Enforcement Team officers located approximately 50,000 Fentanyl pills, 25lbs. of meth, ½ pound of cocaine, and $70,940.
Listen to Breaking Battlegrounds Podcast on
Spotify Podcasts: https://spoti.fi/3SVvOF4
Apple Podcasts: https://apple.co/3eeEis7