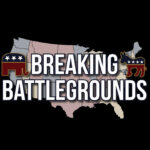 This week on
Breaking Battlegrounds
, Chuck and Sam are joined by Corey DeAngelis, a leading advocate for school choice, and Christopher Bedford, an expert on free speech and journalism in the digital age.
Corey DeAngelis is the national director of research at the American Federation for Children, the executive director at Educational Freedom Institute, an adjunct scholar at the Cato Institute, and a senior fellow at Reason Foundation. He was named on the Forbes 30 under 30 list for his work on education policy and received the Buckley Award from America's Future in 2020. DeAngelis's research primarily focuses on the effects of school choice programs on nonacademic outcomes such as criminal activity, character skills, mental health, and political participation. He has authored or coauthored over 40 journal articles, book chapters, and reports on education policy, and he is the coeditor of School Choice Myths: Setting the Record Straight on Education Freedom.
Christopher Bedford is a senior editor at The Federalist, a founding partner of RightForge, vice chairman of Young Americans for Freedom, a board member at The Daily Caller News Foundation and National Journalism Center, and the author of "The Art of the Donald." His work has been featured in The American Mind, National Review, the New York Post and the Daily Caller, where he led the Daily Caller News Foundation and spent eight years. A frequent guest on Fox News and Fox Business, he was raised in Massachusetts and lives across the river from D.C. Follow him on Twitter.
Listen to Breaking Battlegrounds Podcast on
Spotify Podcasts: https://spoti.fi/3SVvOF4
Apple Podcasts: https://apple.co/3eeEis7