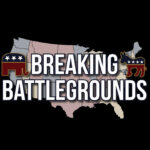 Arizona State Senator and candidate for Arizona Treasurer, David Livingston, joins Chuck and Sam on this week's episode of Breaking Battlegrounds. David has spent more than half his life living and working in Arizona. He has helped parents save for their children's education, provided solutions to adults with parents who require special care, and guided many people toward their financial and retirement goals.
After graduating from Arizona State University with a bachelor's degree in Finance in 1988, Livingston began building a financial consulting business with Ameriprise Financial, Inc., a diversified US financial services company with location through the country.
During the ensuing 20 years, Livingston achieved elite status with Ameriprise, which placed him in the top 10 percent of franchise owners worldwide. Livingston sold his franchise in 2013.
He is a former member of both the Glendale and Peoria Chambers of Commerce, and is a past Board Member of the Glendale/Peoria YMCA.
Livingston was elected to the Arizona House of Representatives in 2012 for District 22. During his first term at the Legislature, he served as vice chairman for the House Committee on Financial Institutions. During this time, Livingston also served as a member of the House Committee on Insurance and Retirement, and the House Committee on Public Safety, Military and Regulatory Affairs.
Livingston was re-elected in 2014. During his second term, he was selected by his fellow Republicans to serve as Majority Whip for the Republican Caucus.
David has been married to his wife Tracy Livingston since 1988. They have a son, Kyle, who attends college part-time in Prescott and works fulltime for a hospital there.
David and Tracy enjoy scuba diving, playing tennis and traveling. They attend Christ's Church of the Valley and currently live in Peoria with their two rescue dogs, Kate and Spencer.
Listen to Breaking Battlegrounds Podcast on
Spotify Podcasts: https://spoti.fi/3SVvOF4
Apple Podcasts: https://apple.co/3eeEis7