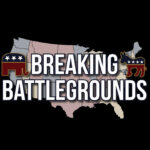 This week on
Breaking Battlegrounds
, we are joined by Dean Heller, former United States Senator and current candidate for governor in Nevada. Later in the program, Pete Hutchison of Landmark Legal calls into the program with an inside look at the
Supreme Court
. Dean grew up in Carson City, Nevada, with five brothers and sisters. He began working in his father's auto shop in middle school, and there he learned the importance of hard work, discipline, and commitment – Western values that continue to guide him today.
Those values helped Dean accomplish his dream of graduating from the University of Southern California, in 1985, and he was later recognized with the Distinguished USC Alumni Award in 2012.
His time at the USC Marshall School of Business prepared him to work as a broker on the Pacific Stock Exchange and then as an institutional equities trader. Dean then served as a banking Municipal Finance Representative before he started his long political career.
Dean was sworn into the United States Senate on May 9, 2011. Prior to his service in the Senate, Dean was the Representative for Nevada's Second Congressional District and also served as Nevada's Secretary of State and in the Nevada State Assembly representing Carson City.
During his time in the Senate, Dean served on the Finance Committee, Banking Committee, Veterans' Affairs Committee, and Commerce Committee. Dean's service on these committees allowed him to address the housing crisis, stand up for the more than 20 million veterans that have served our country, ensure that our transportation needs were met, and write tax policy that allowed for economic growth and opportunity for all Americans.
Richard P. "Pete" Hutchison has dedicated nearly 30 years serving the Conservative movement with Landmark Legal Foundation. Pete has been in the trenches for some of the most important public policy issues of the last quarter century: school choice; judicial taxation; labor union political coercion; EPA, IRS, and other federal agency overreach and abuses; voter integrity; and in numerous U.S. Supreme Court cases dealing with significant constitutional issues. Pete served as Landmark's general counsel for 20 years and most recently has also acted as the Foundation's executive vice president. Pete is proud to succeed his longtime friend and Landmark colleague Mark Levin as Landmark's president.
Listen to Breaking Battlegrounds Podcast on
Spotify Podcasts: https://spoti.fi/3SVvOF4
Apple Podcasts: https://apple.co/3eeEis7