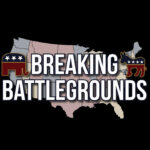 This week on
Breaking Battlegrounds
, we are joined by Dr. Aaron Friedberg, a nonresident senior fellow at the American Enterprise Institute and an expert on China. Later in the show, Kerry Picket of the Washington Times calls in to discuss some of the week's biggest headlines.
–
Aaron L. Friedberg is a nonresident senior fellow at the American Enterprise Institute, where he focuses on China and US-China relations, great-power competition, and US foreign and defense policy. Concurrently, he is a professor of politics and international affairs at Princeton University, where he is codirector of the Center for International Security Studies. Dr. Friedberg serves on the US-China Economic and Security Review Commission. In addition, he is a counselor of the National Bureau of Asian Research, nonresident senior fellow at the German Marshall Fund, and president and founding board member of the Alexander Hamilton Society. From 2003 to 2005, Dr. Friedberg served as deputy assistant for national security affairs in the Office of the Vice President of the United States. After leaving government, he was appointed to the Defense Policy Board and the Secretary of State's Advisory Committee on Democracy Promotion. Dr. Friedberg is the author, coauthor, or editor of several books, monographs, and book chapters. His books include Getting China Wrong (Polity Books, June 2022); Beyond Air-Sea Battle: The Debate over US Military Strategy in Asia(Routledge, 2014); A Contest for Supremacy: China, America, and the Struggle for Mastery in Asia (W. W. Norton & Company, 2011); In the Shadow of the Garrison State: America's Anti-Statism and Its Cold War Grand Strategy(Princeton University Press, 2000); and The Weary Titan: Britain and the Experience of Relative Decline, 1895–1905(Princeton University Press, 1988). Dr. Friedberg has been widely published in policy journals, academic publications, and the popular press, including in Foreign Affairs, Foreign Policy, Commentary, the New York Times, the Wall Street Journal, War on the Rocks, the American Political Science Review, Asia Policy, China Economic Quarterly International, Daedalus, Harvard International Review, and Washington Quarterly. Dr. Friedberg has a PhD and AB in government from Harvard University.
–
Kerry Picket is a senior congressional reporter for The Washington Times and fill-in radio host at SiriusXM Patriot 125. She previously covered the hill at other DC-based outlets including the Daily Caller and the Washington Examiner. Before that, she produced news for Robin Quivers of The Howard Stern Show on SiriusXM, wrote entertainment news for MTV Radio, and worked as a production assistant at MTV.com. She appears frequently as a guest commentator on cable news programs and syndicated radio shows.
Listen to Breaking Battlegrounds Podcast on
Spotify Podcasts: https://spoti.fi/3SVvOF4
Apple Podcasts: https://apple.co/3eeEis7