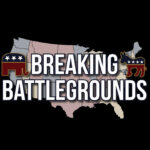 This week on
Breaking Battlegrounds
, Chuck and Sam are joined by best-selling author Dr. Everett Piper for a discussion on how wokeism has affected our culture, especially our schools. Later in the show, Brandon Darby joins the program for a deep look at the reality of our border crisis.
Dr. Everett Piper is the author of the national best-seller, Not a Daycare: The Devastating Consequences of Abandoning Truth. He has served as president of Oklahoma Wesleyan University for 17 years, during which time he led his school from relative obscurity to a position of national recognition and influence. He currently serves as a contributing columnist for The Washington Times. Dr. Piper is also the 2016 recipient of the Jeane Kirkpatrick Award for Academic Freedom.
Brandon Darby is the Director of Breitbart's Border and Cartel Chronicles projects, where he reports on the crisis on both sides of our southern border. He is also the co-founder of the Common Ground Collective, which began as a relief organization in the aftermath of Hurricane Katrina in 2005.
Listen to Breaking Battlegrounds Podcast on
Spotify Podcasts: https://spoti.fi/3SVvOF4
Apple Podcasts: https://apple.co/3eeEis7