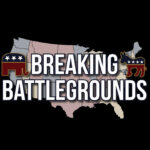 This week on
Breaking Battlegrounds
, Chuck and Sam are joined by Elijah Norton, Republican candidate for Congress in Arizona's 1st Congressional District. Later in the show, Dan McLaughlin of the National Review returns to the show to break down the biggest headlines of the week.
Elijah Norton was born and raised in the Midwest to parents who taught him the importance of working hard and contributing to society. His family has a long history of American patriotism and achieving their own slices of the American dream. He grew up listening to stories from family members about his great-great-great grandfather Elijah Hise Norton, for whom he was named after, who served in Congress during the American Civil War and was a driving force against Missouri's succession from the Union. Elijah fell in love with America and her rich history growing up, and he is deeply concerned about the direction America is headed. If elected to Congress, Elijah plans to take after his great-great-great grandfather by protecting and conserving America, and our shared sacred freedom.
Elijah took the invaluable lessons he learned from his hard-working parents and put them to the test while attending the University of Missouri-Kansas City, where he graduated with a bachelor's degree in Political Science. At 21, while in college, Elijah saw a need in society and used $1,000 he had saved up to start his own business. Ten years later, that same small start-up now employs over 100 people and is a leader in the finance and insurance industry. His business is now operating throughout the United States, Canada, Chile, and Europe. In 2015, Norton expanded his business and moved it to the Phoenix area, where he now calls Scottsdale his home.
Elijah believes we need more people, like his great-great-great grandfather, who leave their livelihoods behind and go to Washington, D.C. to fight for what is best for America—not themselves. We all know Washington, D.C. is broken. The way we fix it is by electing people who have accomplished something in their lives first, and then decide to run for public office—not by electing career politicians.
Elijah Norton is no stranger to fixing problems, and that's exactly why he is running to represent the northeast valley in Congress. The problems we face together as a nation are immense, but, with the right leadership, Elijah believes we can fix them.
The citizens of Arizona deserve better than a Representative mired in ethics violations more committed to self-preservation than doing the people's business. Elijah believes lower taxes, a balanced budget, and limited government means more freedom for the American people. He will fight to keep the bright light of America shining throughout the world and will fight to bring much needed change to Washington, D.C.
Dan McLaughlin is a senior writer at National Review Online and a fellow at National Review Institute. He was formerly an attorney practicing securities and commercial litigation in New York City, a contributing editor of RedState, columnist at the Federalist and the New Ledger, a baseball blogger at BaseballCrank.com, BostonSportsGuy.com, the Providence Journal Online, and a contributor to the Command Post. His writings on politics, baseball, and law have appeared in numerous other newspapers, magazines, websites, and legal journals.
Listen to Breaking Battlegrounds Podcast on
Spotify Podcasts: https://spoti.fi/3SVvOF4
Apple Podcasts: https://apple.co/3eeEis7