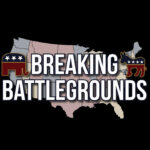 This week on
Breaking Battlegrounds
, Sam and Chuck are joined by two great guests. In the first half of the show, Professor Eric Kaufmann of Birkbeck College for a discussion of race in American politics. Later, State Representative Jeff Weninger calls in to discuss Arizona's new sports gambling law, which he sponsored in the state legislature.
Eric Kaufmann is Professor of Politics at Birkbeck College, University of London, UK. Though a native of Vancouver, British Columbia, he was born in Hong Kong and spent eight early years of his life in Tokyo. In winter, his favourite pastimes are (ice) hockey and skiing. In summer, cooling off in the ocean or by the lake. Eric is principally interested in cultural politics: ethnicity, national identity and religion.
Jeff Weninger is a member of the Arizona House of Representatives representing District 17 since January 5, 2015. Before serving in the legislature, Weninger served on the Chandler City Council for eight years and held the position of Vice Mayor. He is also a small business owner and is now running for State Treasurer.
Listen to Breaking Battlegrounds Podcast on
Spotify Podcasts: https://spoti.fi/3SVvOF4
Apple Podcasts: https://apple.co/3eeEis7