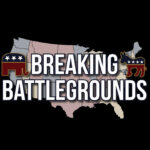 In this week's episode of Breaking Battlegrounds, we are honored to welcome a lineup of exceptional guests, each bringing their unique perspectives on pressing issues that matter most to our nation.
Our first guest needs no introduction, as he is a dear friend of the show and a prominent figure in the political landscape. Matt Lewis, the acclaimed columnist at The Daily Beast and the author of "Too Dumb to Fail: How the GOP Betrayed the Reagan Revolution to Win Elections (and How It Can Reclaim Its Conservative Roots)," graces our platform once again. Today, Matt joins us to share insights from his newly-released book, "Filthy Rich Politicians: The Swamp Creatures, Latte Liberals, and Ruling-Class Elites Cashing in on America."
Next on our show is Congressman James Moylan, representing Guam. As Guam Liberation Day approaches on July 21, Congressman Moylan joins us to shed light on this historic event and its profound significance to the people of Guam. We explore the remarkable journey of resilience and freedom, honoring the spirit of those who have shaped Guam's vibrant history.
Our final guest, California State Senator Shannon Grove, enters the conversation with an urgent and compelling topic. She discusses her crucial bill that aims to designate human trafficking as a serious and violent felony. Despite the importance of this legislation, California democrats voted it down. Tune in to learn more about this critical issue and the efforts to combat human trafficking in the Golden State.
Called a "first-rate talent" in The Washington Post and "super-smart" by John Heilemann, Matt K. Lewis is a center-right critic of American politics and pop culture.
As a journalist, Lewis has earned a reputation as an "independently minded" (Columbia Journalism Review) and "intellectually honest" commentator (Ben Adler, Newsweek). He is a senior columnist for The Daily Beast, and his work has appeared in The Wall Street Journal, GQ, The Washington Post, The Week, Roll Call, Politico, The Telegraph, The Independent, and The Guardian. He previously served as senior contributor for The Daily Caller, and before that, as a columnist for AOL's Politics Daily.
Lewis dissects the day's issues in conversation with other thinkers, authors, and newsmakers on his podcast Matt Lewis and the News, and co-hosts The DMZ Show with liberal pundit Bill Scher. He has appeared on MSNBC, CNN, C-SPAN, PBS NewsHour, ABC's "Nightline," HBO's "Real Time with Bill Maher," and CBS News' "Face The Nation," and has contributed to radio outlets including NPR and the BBC.
Kirsten Powers described Lewis's 2016 book, Too Dumb to Fail: How the GOP Went From the Party of Reagan to the Party of Trump, as "a lively and fascinating read for any person confounded by the state of today's Republican Party." In 2011, Lewis released The Quotable Rogue: The Ideals of Sarah Palin in Her Own Words, an edited compilation of the Alaska governor's much-discussed public utterances.
Congressman James Moylan proudly serves as Guam's congressional delegate to the 118th United States Congress.
As the first Republican to win the seat on Guam in nearly 30 years, Moylan's victory was historic.
He is a strong and trustworthy leader who's focused on issues that affect Guamanians most.
Moylan believes island residents have a right to know what's happening in their governing offices. Therefore, he has created an open door policy allowing constituents to have their concerns addressed.
Moylan's history of service includes his time as a senator in the 35th and 36th Guam Legislature, a Veteran of the United States army and a parole officer at the Department of Corrections.
Additionally, Moylan has more than two decades of experience working in the private sector, including healthcare, financial services, and insurance.
In his current position, Moylan serves on the House Armed Services Committee and the House Natural Resources Committee. Both Committees address issues that are vital to Guam.
Additionally, Moylan is a native of Guam and is from the village of Tumon. He graduated from John F Kennedy High School and continued to the University of Guam where he obtained a bachelor's degree in Criminal Justice. Most of all, Moylan is a proud father to Abby and Krissy Moylan.
Senator Shannon Grove was born and raised in Kern County.
After graduating from high school, Senator Grove served in the United States Army. While stationed in Frankfurt, Germany she witnessed the fall of the Berlin Wall in 1989.
Following her service to our nation, she established a staffing company with her sister-in-law called Continental Labor and Staffing Resources. Senator Grove currently serves as the CEO.
Prior to her election to the State Senate, Senator Grove was the first woman veteran elected to the California Legislature as she served the 34th Assembly District from 2010 to 2016.
Senator Grove was elected to represent the 16th Senate District in November 2018, which includes portions of Kern, Tulare, and San Bernardino counties. In January 2019, she was elected Leader of the Senate Republican Caucus where she served in that capacity for two years. As the Republican Leader-Emeritus, Grove remains a committed representative working with legislators to advance policies that benefit the constituents, businesses, and communities within Senate District 16.
Senator Grove is an advocate for small business, school choice, the developmentally disabled, farmers, and families. She currently lives in Kern County with her husband, Rick. They are the proud parents of five children and eight grandchildren.