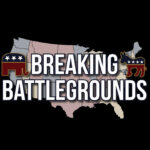 This week on
Breaking Battlegrounds
, Chuck and Sam are joined by Geoff Duncan. As Lt. Governor of the State of Georgia, Geoff never expected to find himself in the national spotlight – or in the crosshairs of the President of the United States. Then the 2020 Election and its aftermath brought the nation's attention to Georgia. Amidst a hurricane of conspiracy and misinformation, Geoff spoke up for truth,
conservative
values, and the Republican Party he knows. His experiences inspired him to write the book GOP 2.0. A former professional baseball player and successful entrepreneur, Geoff was elected Georgia's Lieutenant Governor in November of 2018.
Geoff graduated from Chattahoochee High School in Alpharetta where he met his wife, Brooke. Geoff and Brooke both attended the Georgia Institute of Technology where Geoff was a scholarship pitcher. After a successful career at Georgia Tech, Geoff was drafted by the Florida Marlins' organization. Geoff spent six seasons playing baseball in the minor leagues, advancing as high as AAA before a shoulder injury forced his retirement in the early 2000s.
After retiring from baseball, Geoff and his wife Brooke started a small marketing firm in their living room. The company experienced tremendous success which allowed Geoff and Brooke to sell the business and move on to multiple other entrepreneurial ventures. Geoff most recently served as the CEO of a health technology startup.
Geoff's faith inspired him to a life of leadership and prompted his upstart run for political office. He was elected to the Georgia House of Representatives in 2012. During his time in office he authored several important pieces of legislation. These include HB 749-The Cargo Theft Act, HB152-Michael's Law and most recently SB258- the Rural Hospital Tax Credit.
Geoff and Brooke are married and have three sons: Parker (17), Bayler (13), and Ryder (9). Geoff has coached 23 different youth sports teams, and also leads a weekly bible study with his wife Brooke. The Duncans attend Browns Bridge Community Church, an affiliate of North Point Community Church. GOP 2.0 is available at gop2.org
Listen to Breaking Battlegrounds Podcast on
Spotify Podcasts: https://spoti.fi/3SVvOF4
Apple Podcasts: https://apple.co/3eeEis7