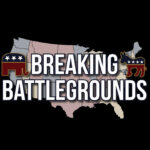 With just a few days left before
Arizona
's primary election, we are joined this week by two of Arizona's top pollsters, George Khalaf and Mike Noble, for their final predictions and analysis of the election so far. Later in the show, Chuck and Sam talk with Mark Finchem, a member of the Arizona Legislature and current candidate for Secretary of State.
–
George Khalaf serves as President of Data Orbital and Managing Partner of The Resolute Group. For the last decade he has leveraged his political instincts, data expertise and strategic relationships to advance conservative clients and causes throughout Arizona and a growing number of states. He believes conservative policies create thriving communities and wants to arm conservative candidates and organizations with the best data, messaging, and strategy. With a strong grassroots and data background, George has worked at the local, state and national levels. Under George's leadership, Data Orbital is a top ranked survey research and data visualization firm that is known for its accuracy and transparency. Data Orbital was the most accurate firm that polled Arizona political races and is top rated by FiveThirtyEight. Data Orbital's survey research has been featured in top news outlets and publications such as The Washington Post, Politico, The Hill, NBC News, Fox News, Fox Business, The Arizona Republic, LA Times and others. As managing partner of The Resolute Group, he led the effort to keep the Arizona legislature conservative, playing in the most contentious districts and races across the state. He advises conservative candidates and organizations across the country on strategy. The firm is building a reputation for taking on and leaning into the toughest fights. They aim to shape the landscape, not merely exist in it. George's engagement is driven by his personal faith and his Lebanese heritage. He knows firsthand the price of freedom and the importance of protecting our core values and Constitutional rights. In addition to his domestic political work, George is engaged in efforts to advance democracy and prosperity in Lebanon and lift up the Lebanese people both in the United States and in Lebanon. George graduated from Arizona State University with a Bachelor's in Political Science. Born in Beirut, Lebanon, George currently lives in Phoenix, AZ. When he is not tracking local and national political developments and advising clients, George enjoys traveling with his family and spending time with his two boys.
–
Mike Noble is the Chief of Research & Managing Partner of OH Predictive Insights (OHPI), a sister company of Arizona's largest advertising agency, OH Partners. Noble is a thought leader on public opinion tracking and analysis and is known for being a trailblazer in the rapidly changing fields of predictive insights and market research. Mike found a passion for politics while working for an Arizona Congressman before starting OHPI, the premier non-partisan Arizona polling and consulting firm. Since then, Mike has become one of the top pollsters in the West, working with clients throughout Arizona, Nevada, and Utah. Mike's approach involves getting in the trenches with his clients, striving to fully understand their businesses and goals with the result of providing accurate, unbiased, and actionable information. He is known for his presentations, public and private speaking engagements, and interviews where he interprets the meaning of the data. Providing this insight has led to interviews with The Wall Street Journal, New York Times, Politico, The Hill, The Guardian, TIME magazine, Huffington Post, LA Times, BBC World News, and other respected television and radio outlets. Mike graduated from Arizona State University and is married to Rebecca Noble with whom he has one-year-old twin boys, Tommy and Teddy.
–
Mark Finchem is a candidate for Arizona Secretary of State. Living outside of Kalamazoo, Mark worked as a farmer and rancher in a small rural community. When he retired, Mark moved to Tucson, Arizona, where he worked in leadership roles in both small business and a multi-million dollar software company. In the private sector he earned a Six Sigma Certification in process excellence. Integrity we can trust. Hon. Finchem was originally elected to serve in the 2015 Legislature, Mark is now in his 4th and final term. Arizona has term limits, and Representatives are allowed 4 consecutive terms.
Listen to Breaking Battlegrounds Podcast on
Spotify Podcasts: https://spoti.fi/3SVvOF4
Apple Podcasts: https://apple.co/3eeEis7