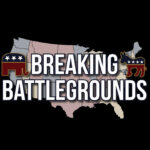 Join hosts Chuck Warren and Sam Stone this week on "Breaking Battlegrounds" for a dynamic lineup of discussions. Our first guest, Governor Joe Lombardo, gives an exclusive update on his journey as Nevada's Governor and shares his perspective on the state's progress and his vision for the road ahead.
Later in the show, we shift gears to explore the complex world of technology with David Sinclair. Sinclair delves into the intricacies of data gathering and behavioral manipulation by tech giants. Gain a deeper understanding of how these companies collect and leverage user data.
Concluding the episode, Rachel Walden, Mesa Public Schools Governing Board Member, brings a crucial dialogue on school safety to the forefront. Gain insight into the latest agreement in Mesa, AZ, where a significant step has been taken to enhance student safety. Every junior high and high school campus now benefits from the presence of school safety resource officers, fostering a secure learning environment.
Governor Joe Lombardo
Born in Japan in a military family, Governor Joe Lombardo spent his childhood growing up across the world, until his father was stationed at Nellis Air Force Base and his family put down roots in Las Vegas.
Governor Lombardo attended Rancho High School in North Las Vegas, before going on to attend the University of Nevada, Las Vegas, where he earned his Bachelor of Science degree. After graduating, he served in the United States Army and in the Nevada National Guard.
Following his military service, Governor Lombardo joined the Las Vegas Metropolitan Police Department (LVMPD), where he quickly rose through the ranks and served on nearly every level of LVMPD, from detective to assistant sheriff. While serving at LVMPD, Governor Lombardo earned his Master of Science in Crisis Management from the University of Nevada, Las Vegas in 2006.
After 26 years on the force, Governor Lombardo was elected as Sheriff of Clark County in 2014 and re-elected in 2018. As the sheriff of Nevada's largest county, he oversaw a $1.3 billion dollar budget, 6,000 employees, and LVMPD's efforts to protect millions of Clark County residents and visitors each day.
Governor Lombardo was elected as the 31st Governor of Nevada in November 2022 and sworn into office in January 2023. Governor Lombardo is focused on diversifying and revitalizing Nevada's economy, restoring law and order in communities across the state, and bringing excellence, school choice, and accountability to Nevada's education system.
More important to him than anything, Governor Lombardo is a devoted husband to First Lady Donna Lombardo, a dedicated father to his daughter Morgan, stepdaughter Lacey, stepson Jackson, and a grandfather to his 1-year-old grandson Teddy
David Sinclair is the founder and CEO of 4FreedomMobile. A secure mobile service platform that provides secure, unlimited talk, text and high-speed data worldwide, while preventing tech companies, network operators, and others from tracking users' location, identity, communications, internet activity, payments, and more.
–
Rachel Walden is a member of the Mesa Public Schools Governing Board, the largest school district in the state. As a Governing member she has prioritized academic achievement, parental rights, fiscal responsibility, and transparency.