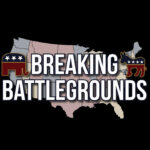 This week on
Breaking Battlegrounds
, Chuck and Sam talked to Washington Post columnist Henry Olsen and Chris Wilson, CEO and partner of WPA Intelligence. Henry and Chris break down exactly what happened in last week's election and what it means for 2022 and 2024.
Henry Olsen is a Washington Post columnist and a senior fellow at the Ethics and Public Policy Center. Olsen began his career as a political consultant at the California firm of Hoffenblum-Mollrich. After three years working for the California Assembly Republican Caucus, he returned to school to become a lawyer. Following law school he clerked for the Honorable Danny J. Boggs on the United States Sixth Circuit Court of Appeals and as an associate in the Philadelphia office of Dechert, Price & Rhoads. He then joined the think tank world where he spent the next eighteen years as an executive at a variety of institutions, serving as the President of the Commonwealth Foundation, a Vice President at the Manhattan Institute, and as Vice President and Director, National Research Initiative, at the American Enterprise Institute. He left AEI in 2013 to pursue a career in political analysis and writing at EPPC. During that time his work has appeared in variety of leading publications in America and the United Kingdom. He is the author or co-author of two books, "The Working Class Republican: Ronald Reagan and the Return of Blue-Collar Conservatism" and (with Dante J. Scala) "The Four Faces of the Republican Party". His biennial election predictions have been widely praised for the uncanny accuracy, and he is a frequent guest on television and radio programs. Olsen regularly speaks about American political trends and global populism in the United State, Europe, and Australia.
Prior to starting WPA Intelligence in 2004, Chris was Global Director of Research for Weber Shandwick International, the world's largest public relations firm at the time. While at Weber Shandwick, Chris led research for Fortune 500 companies such as Coca-Cola, American Airlines, Kodak, Wells Fargo, and Boeing.
In 2016, as the Director of Research, Analytics and Digital Strategy for the Cruz for President campaign, Chris is widely credited for playing a key role in Cruz's triumph in Iowa and helping the Texas Senator finish with the most delegates earned by a 2nd place finisher since Ronald Reagan in 1976. Using a meticulous, technologically advanced, and highly individual approach, Chris led the campaign to reach voters by predicting voter behavior based on ideological segments, personality modeling targeting each voter based on the issue most important to them. You can read more about Chris' Iowa work in Sasha Issenberg's seminal Bloomberg piece, "How Ted Cruz Engineered His Iowa Triumph." An Oklahoma native, Chris is a graduate of University of Oklahoma and Georgetown and remains an avid Sooner fan. In the rare instances that Chris isn't working, he enjoys watching OU football and Thunder basketball, spending time with his sons, Denver and Carson, reading, and racking up impressive amounts of frequent flyer miles. He is a regular political analyst on both Fox News and MSNBC.
Listen to Breaking Battlegrounds Podcast on
Spotify Podcasts: https://spoti.fi/3SVvOF4
Apple Podcasts: https://apple.co/3eeEis7