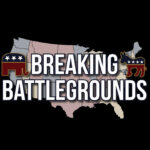 Welcome back to another episode of Breaking Battlegrounds that tackles a range of pressing topics. Our first guest, Arizona Representative Matt Gress, candidly shares his concerns about the homeless hotel conversion in Scottsdale. Join us as we dissect the intricacies of this issue and its potential implications. Representative Gress also provides insights into President Biden's recent visit to Arizona and his pivotal role in the ADE's School Safety Taskforce.
Shifting gears, we sit down with Tim Chapman, Senior Advisor of Advancing American Freedom. Tune in to gain a comprehensive understanding of conservative trends and the impactful initiatives spearheaded by AAF.
Concluding our episode, we engage in a thought-provoking dialogue with Dr. Owen Anderson, a distinguished professor at ASU specializing in philosophy, religious studies, and theology. Building on our ongoing exploration, Dr. Anderson provides fresh insights into the nuanced landscape of free speech on ASU's campus.
Representative Matt Gress
Matt Gress represents Arizona's 4th Legislative District. Matt Gress is a former public school teacher, school board member and an active member of the local community. He is passionate about public service and solving problems. As our state representative, Matt will work with both sides – Republicans and Democrats – to find solutions to issues such as reducing the cost of living, increasing teacher pay, reducing crime and addressing Arizona's water crisis.
Matt is endorsed by some of our community's most respected organizations: Arizona State Troopers, the Arizona Police Association, the Arizona Fraternal Order of Police, the Phoenix Law Enforcement Association, the Professional Firefighters of Arizona, the Arizona Nurses Association, the Greater Phoenix Chamber of Commerce, the Arizona Chamber of Commerce and Industry and the Home Builders Association of Central Arizona.
Like many, Matt came here from somewhere else — small town Oklahoma. The youngest of four, he was raised by a single mom in a single-wide trailer. Growing up, Matt's family didn't have much, but that never stopped them from dreaming big. Matt learned the value of hard work, to respect his elders and to count his blessings.
Matt worked his way through college driving school buses, and became the first in his family to earn a degree. While attending the University of Oklahoma, Matt was selected for the distinguished Harry S. Truman Scholarship — awarded to only one college student in each state who possesses leadership potential and a call to public service. After graduating, Matt was accepted to join Teach for America, a national teaching corps focused on serving in high-need, high-poverty schools. Matt taught high school English.
From 2017 to 2021, Matt served as a Governing Board Member in the Madison Elementary School District. While on the board, Matt fought to keep schools open during COVID-19, supported increased school choice and advocated for parents and taxpayers to have a seat at the table in curriculum, hiring decisions and budgeting, including expensive procurement contracts.
Matt is a budget hawk. He holds a Masters in Public Administration, with a focus on state and local government finance and public management, from Syracuse University. Here in Arizona, Matt has served as a faculty associate at Arizona State University and as a budget analyst at the Arizona State Capitol, learning exactly where our tax dollars go. Currently, he serves as the state's top budget chief in the Arizona Governor's Office of Strategic Planning and Budgeting. There, he has authored budgets directing billions of new dollars towards K-12 education and teachers.
Matt also has experience in energy, water and technology policy, previously serving as an advisor at the Arizona Corporation Commission, where he worked on issues related to expanding broadband, lowering energy rates, reducing regulations on small businesses, and enhancing the stability of our power grid.
Matt, along with his partner Daniel, is proud to call Arizona and District 4 his home. He's an avid volunteer in the community, and plans to focus in the Legislature on solutions that can bring both sides together.
Matt is a proud Rotarian and past president of the Phoenix-Arcadia Rotary Club, a Flinn-Brown Civic Leadership Academy Fellow, a former board member of the Madison Education Foundation, and previously served as a commissioner on the Maricopa County Planning and Zoning Commission.
Tim Chapman

Tim Chapman is a Senior Advisor at Advancing American Freedom (AAF), a public policy advocacy organization founded by Vice President Mike Pence. He is also a Principal at P2 Public Affairs where he works with clients to build national campaigns to influence public policy.

Chapman has served as the Executive Director of Heritage Action, Chief of Staff at the Heritage Foundation, and as an adviser and staff to Senators DeMint, Nickles and Hutchinson.

Chapman's experience in conservative policy advocacy is extensive as he was a co-founder of Heritage Action – the advocacy arm of The Heritage Foundation – and a former Executive Director at Stand for America, an advocacy organization founded by Ambassador Nikki Haley. Tim has built and maintained policy coalitions on the right that have helped shape the consensus within the GOP and he has helped craft messaging/activist campaigns that have resulted in policy victories.
Dr. Owen Anderson

Dr. Owen Anderson is a professor of philosophy, religious studies, and theology at ASU and he writes about the radical ideologies of class, race, and gender used by some to coerce students and prevent free speech. He is also a pastor at Historic Christian Church of Phoenix.

Recently, he has been working on the problem of DEIB, antiracism, decolonizing the curriculum, secular universities, and the loss of academic freedom. The philosophy behind these movements is presented in our universities as "the fact of the matter." Why is that? And are we still allowed to think critically and discuss alternative ways of understanding the world and our history? Rousseau, Marx, and Freud dominate the mind of the current secular university professor. We can do much better.