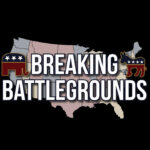 This week on
Breaking Battlegrounds
, Sam and Chuck are joined by Republican candidate for Attorney General, Abraham Hamadeh. Abraham is an intelligence officer in the U.S. Army Reserve and just returned from a 14 month long deployment to Saudi Arabia. On behalf of the United States Army, Abraham negotiated military sales and managed the training for Saudi Arabia's domestic security forces both in the Kingdom and in the United States. He implemented the first of its kind new enhanced security vetting in response to the 2019 Pensacola terrorist attack. His direct counterparts were generals, colonels, and lieutenant colonels in the Saudi forces as well as high ranking civilians in their respective ministries.
Abraham's awards include the Meritorious Service Medal, Army Achievement Medal, Gold German Armed Forces Proficiency Badge, and Overseas Service Ribbon among others. Abraham is a board member of the Dean's Council of the College of Liberal Arts and Sciences at Arizona State University. Abraham previously served on the board of advisors of the Center for Political Thought and Leadership at ASU which established a curriculum that honors and studies America's founding thinkers and documents.
Abraham is a former prosecutor of the Maricopa County Attorney's Office. Abraham has appeared in court to prosecute criminals, uphold victims' rights, and seek justice for the community. Abraham earned his undergraduate degree in Political Science from Arizona State University and earned his Juris Doctor from the University of Arizona College of Law. During his law studies, Abraham was awarded the Udall Fellowship by the Arizona Prosecuting Attorneys' Advisory Council which placed him at the city, county, state, and federal prosecutor offices.
Listen to Breaking Battlegrounds Podcast on
Spotify Podcasts: https://spoti.fi/3SVvOF4
Apple Podcasts: https://apple.co/3eeEis7