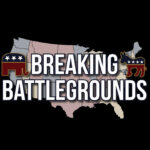 This week on Breaking Battlegrounds, we are joined by Jason Willick, a columnist for the Washington Post. Later in the program, we are joined in studio by Mark Joseph Mongilutz, a writer for the Haymaker, for a discussion of the future of AI.
Jason Willick writes a regular Washington Post column on legal issues, political ideas and foreign affairs. Before coming to The Post in 2022, he was an editorial writer and assistant editorial features editor for the Wall Street Journal, and before that a staff writer and associate editor at the American Interest.
Mark Joseph Mongilutz is a writer, editor, author, and occasional book consultant. He is presently working as a full-time content manager for Haymaker, a finance-focused Substack newsletter, and has recently launched Opinions Impending (also on Substack), via which he will share his political/cultural writings on a semi-weekly basis.
Mark is the author of Solemn Duty in the Old Guard (2018) and editor of Voices of the 9/11 Pentagon Recovery Effort: Essays from the U.S. Army's Old Guard (2020).
Originally from Western Washington, Mark now lives in Scottsdale, Arizona.