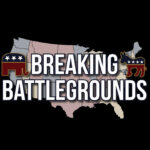 This week on
Breaking Battlegrounds
, Sam and Chuck are joined by Jeremy Hunt, a
Republican
running for Congress in Georgia's hotly contested second congressional district.
At a young age, Georgia native Jeremy Hunt learned what it meant to serve. His parents, both evangelical ministers, live their lives for others. Jeremy's childhood home was never empty: those in need were always invited for a warm meal and a place to stay during tough times. And Jeremy accompanied his parents as they visited sick church members in hospitals. He learned that being a Christian meant more than attending church services, it meant selfless service.
By the time he entered high school, Jeremy knew his life's calling: selfless service to God and country. He answered the call by graduating from West Point and spending five years as an active-duty Army intelligence officer. Upon his return from a deployment to Ukraine, Jeremy embarked on a new mission as he became a husband and then a father.
Jeremy's concern for the future of our country grew even more once he and his wife were blessed with a little girl. He resolved to never surrender his daughter's future to self-entitled elites who want to redefine what it means to be American. With the rising threat of China and Iran from afar, and the spread of woke-ism from within, Jeremy is stepping up to help turn the nation around.
After publishing a series of op-eds on Fox News.com, the New York Post, the Washington Post and making over forty regular TV appearances on Fox News, Jeremy is an outspoken champion for conservative values. He also served as a Visiting Fellow at the Heritage Foundation, and has positioned himself as a leader in the next generation of conservatives.
Listen to Breaking Battlegrounds Podcast on
Spotify Podcasts: https://spoti.fi/3SVvOF4
Apple Podcasts: https://apple.co/3eeEis7