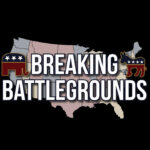 In this week's Breaking Battlegrounds episode, we welcomed two prominent guests; John Pudner and Dawn Hawkins.
John Pudner, President of Take Back Our Republic Action, joined Chuck and Sam for a discussion about the path forward for the GOP. We discuss topics like campaign contribution, abortion, faith-based voters, Department of Education and more.
Dawn Hawkins, CEO of the National Center on S*xual Exploitation, highlighted a pressing issue – big tech's role in the proliferation of s*xual exploitation. Shockingly, 13% of Twitter content is explicit. She shared that the organization has initiated multiple lawsuits against big tech to bring about necessary changes in their terms and conditions.
Join us for an insightful discussion on these critical issues shaping our political landscape and digital age.
About
During John Pudner's tenure as Executive Director (2015-2021), Take Back Our Republic compiled a perfect record of five statewide referenda wins in five different states, and Pudner led a 2017 effort before the Federal Elections Commission, in which Take Back Action Fund defeated Facebook, requiring the social media giant to disclose who was paying for political ads on that platform. These important successes were a prime motivator in Pudner's transition to full-time President of Take Back Action Fund, where he will be able to focus his attention on political and grassroots lobbying efforts.
Before shifting his efforts to the integrity of the system itself, Pudner spent 25 years running Republican political campaigns, including the faith-based turnout in 16 states for George W. Bush, and was first featured on Fox News after directing the campaign strategy of Republican Dave Brat's historic primary upset of Republican Majority Leader Eric Cantor. In the same period, he also won 185 out of 202 local zoning referenda, as well as dozens of Planning Commission and Supervisor votes, preventing developments that would have saddled communities not only with massive traffic jams, but also with flooding and erosion.
Dawn Hawkins is CEO of the National Center on S*xual Exploitation, the leading organization exposing the connections between all forms of s*xual exploitation, including s*x trafficking, prostitution, pornography, and child s*xual abuse. Dawn's energy, creativity and mobilization skills are deployed to build a world free from s*xual violence, with freedom and human dignity for all.
Dawn is deeply committed to bipartisan public policy solutions at the federal and state level. Her issue expertise, visionary initiatives, and innovative strategy have led to groundbreaking change in the legislative arena and in multimillion-dollar corporate policies. She has also envisioned and created a Law Center to challenge s*xual exploitation profiteers in the courts.
Dawn has been instrumental in re-imaging the National Center on S*xual Exploitation. She has centered the need to address s*x buyer demand for commercial s*x, has severely weakened the mainstream pornography industry, and is leading efforts to bring more accountability to technology platforms for child safety.
Dawn has called out and changed corporate entities facilitating exploitation through the annual Dirty Dozen List, fostered a broad international coalition of 600+ organizations, and constantly: advocates for survivors. Her work has sparked change at Google, Hilton Worldwide, Comcast, Walmart, the Department of Defense, Instagram, TikTok, and other influential firms. Dawn has appeared on many television programs, including CNN, Fox & Friends, and Good Morning America. She regularly authors articles and speaks around the country addressing the public health harms of pornography, curbing demand for s*x trafficking, protecting children and families in our digital world, and more.
Dawn regularly volunteers for organizations devoted to helping children and refugees. She is a graduate of Tufts University and currently resides with her husband and five children in Virginia.