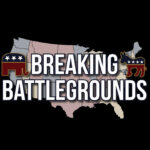 Jonathan E. Johnson joins Chuck and Sam on this week's episode of
Breaking Battlegrounds
. Jonathan serves as the CEO of Overstock. Since assuming this role in 2019, Johnson has focused the e-commerce home furnishings retailer on sustainable, profitable market-share growth. With a brand vision of 'Dream Homes for All,' Overstock is one of the top four U.S. online retailers specializing in home furnishings. Overstock was recognized as one of the top employers of 2021.
From 2016-2021, Johnson also served as president of former Overstock subsidiary, Medici Ventures. Medici focuses on using blockchain technology to democratize capital, eliminate frictional middlemen and re-humanize commerce. Under Johnson's leadership, Medici made investments in and grew many cutting-edge blockchain technology and fintech businesses including, tZERO, Bitt, Medici Land Governance, GrainChain, PeerNova, and Voatz. This innovative portfolio is using disruptive technology in projects that range from bringing vast populations out of poverty to overhauling securities markets. As a vocal supporter, Johnson spent countless hours educating the public and policy makers around the world about the potential of blockchain. In early 2021, Johnson brokered a deal with Pelion Venture Partners where Medici's assets were converted into a Fund overseen by Pelion. Pelion is helping the portfolio companies reach their full potential.
Johnson is currently a member of Overstock's board of directors. He served as the chairman of the board from 2014 to 2017, transitioning to the position after five years as the company's president, and later as the executive vice chairman. Johnson joined Overstock in 2002 as the company's general counsel and has held various business and legal positions within the company. He has been an integral part of Overstock's growth from a small start-up to a publicly traded company with over $3 billion in sales and nearly 2,000 employees.
Prior to joining Overstock, Johnson worked for TenFold Corporation in various positions, including CFO and general counsel. Before that, he practiced corporate law in Los Angeles with two international law firms and served as a judicial clerk at the Utah Supreme Court. Johnson received a bachelor's degree in Japanese from Brigham Young University, studied at Osaka University of Foreign Studies in Japan as a Ministry of Education Scholar, and received his Juris Doctor degree from the J. Reuben Clark Law School at Brigham Young University.
Listen to Breaking Battlegrounds Podcast on
Spotify Podcasts: https://spoti.fi/3SVvOF4
Apple Podcasts: https://apple.co/3eeEis7