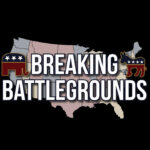 This week on
Breaking Battlegrounds
, we are joined in studio by Kari Lake, Republican candidate for Arizona governor. Later in the show, Bryan Stern of Project Dynamo joins us with the incredible story of how his team successfully rescued an American and his family from Russian captivity in Ukraine.
Kari Lake, the former anchor for Fox 10 News in Phoenix, became a symbol of truth in journalism when she walked away from the mainstream media despite being number one in the ratings for more than two decades.
Now she's running for Governor of Arizona on a platform of common sense conservatism dedicated to individual liberties, low taxes, limited regulation, and protecting Arizona's great Western heritage.
Kari Lake continues to be a voice for the silent majority suffering at the hands of cancel culture, critical race theory, and the devastating effects progressive policies are piling up on America's formerly great cities.
Project DYNAMO is a 501(c)(3) donor-funded non-profit organization headquartered in Tampa, Florida and was established by several U.S. servicemembers during the U.S. pullout from Afghanistan in 2021. Recognizing that the U.S. government was unlikely to conduct operations on the ground in Ukraine, Project DYNAMO forward-deployed team members in January of 2022 to begin planning for rescue operations in the event of a Russian invasion. Project DYNAMO remains operational in Ukraine and Afghanistan today.
Anyone in need of evacuation is urged to register at projectdynamo.org, and register for the U.S. State Department's STEP program.
Project Dynamo is entirely funded through donations. Those interested in donating or learning more about Project DYNAMO can do so by visiting www.projectdynamo.org.
Listen to Breaking Battlegrounds Podcast on
Spotify Podcasts: https://spoti.fi/3SVvOF4
Apple Podcasts: https://apple.co/3eeEis7