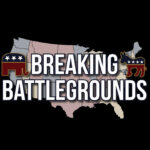 This week on
Breaking Battlegrounds
, Chuck and Sam are joined in studio by Kevin McCarthy of the
Arizona
Tax Research Association (ATRA). Later in the show, Brent Buchanan gives us an update on the Virginia governor's election.
Kevin McCarthy has served ATRA since 1986. A recognized expert in the public finance and taxation field, Kevin has extensive experience representing taxpayers before policy makers at the state and local level. He has been appointed to and served on numerous legislative and executive committees. He currently serves on the Arizona State Retirement System Board and the Property Tax Oversight Commission.
Brent Buchanan is CEO & Founder of Cygnal, an innovation-driven public opinion polling and predictive analytics firm. He started the company in 2007 as a regional general consulting firm but transitioned the organization in 2017 to focus fully on solving the problems with political polling and the insights industry. It worked! The New York Times recognized Cygnal as the most accurate private polling firm in the nation in the 2018 election cycle, and FiveThirtyEight ranked them the most accurate Republican pollster. The firm has served as pollster on presidential, US Senate, gubernatorial, congressional, state legislative, and local races. Brent doesn't know what free time is, because his most important priority is his wife of 12 years and five children age 11 and under.
Listen to Breaking Battlegrounds Podcast on
Spotify Podcasts: https://spoti.fi/3SVvOF4
Apple Podcasts: https://apple.co/3eeEis7