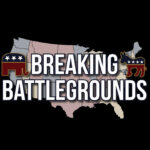 This week on
Breaking Battlegrounds
, we are joined by Florida's Lieutenant
Governor
Jeanette Nuñez to learn more about the many incredible successes she and Governor Ron DeSantis have had in Florida. Later in the show, David Drucker of the Washington Examiner joins us to break down the week's biggest headlines and offer his insight into upcoming elections nationwide.
–
Jeanette M. Nuñez was born and raised in Miami, Florida. She was elected as Florida's First Hispanic Female Lieutenant Governor of Florida in 2018. She previously served as a State Representative of the Florida House of Representatives from 2010 to 2018 and was named Speaker Pro Tempore from 2016 to 2018.
In November 2016, Lieutenant Governor Nuñez was named Speaker Pro Tempore of the Florida House of Representatives. She served as the Vice Chair of the Appropriations Committee and served on the Rules and Policy Committee. She was appointed Chair of the Select Committee on Hurricane Response and Preparedness. In the past, she chaired the Health Quality Subcommittee, Government Operations and Technology Appropriations Subcommittee, and Higher Education and Workforce Subcommittee.
She began her healthcare career working at Jackson Health System in 2004 as the State Director for Government Relations and handled all aspects of the organization's state affairs. In 2006, she was promoted to Vice President of Government Relations and was responsible for overseeing the advocacy efforts at the local, state and federal level. In addition to her duties, she served on numerous boards and healthcare organizations, including the National Association of Public Hospitals Fellowship Program. In 2010, Lieutenant Governor Nuñez joined Hospital Corporation of America (HCA) as their Vice President of Community Affairs for both Kendall Regional Medical Center and Aventura Hospital and Medical Center. She oversaw their community outreach for 3 and half years and was responsible for a number of marketing and business development initiatives.
In late 2013, Lieutenant Governor Nuñez began her own consulting firm, OnPoint Strategies. She has been working with Jackson Health System, providing them with strategic advice on service line and business development. She has also been tasked to work with the Managed Care Department and Population Health.
 Over the years, Lieutenant Governor Nuñez has demonstrated her ongoing commitment to the South Florida community through her active involvement in various local organizations and professional groups. She has been involved with the Greater Miami Chamber of Commerce, Leadership Miami, WHEN, and Women in Government. In 2007, Lieutenant Governor Nuñez was named Hispanic Woman of Distinction. From 2007 – 2015, Lieutenant Governor Nuñez served on the Board of Kristi House, an organization dedicated to children who are victims of sexual abuse. Additionally, Lieutenant Governor Nuñez served as a member of the Statewide Council of Human Trafficking. The 15-member Council, chaired by State Attorney General Pam Bondi, was created to support victims of human trafficking by enhancing the available care options. Recently, Lieutenant Governor Nuñez was appointed to the National Assessment Governing Board which sets policy for the National Assessment of Educational Progress (NAEP), also known as The Nation's Report Card. She was also appointed to the Constitution Revision Commission which examined the Florida Constitution, identified issues, performed research and possible recommendations to amend the Florida Constitution.
Lieutenant Governor Nuñez is a proud graduate of Florida International University (FIU) and a lifetime member of the FIU Alumni Association. She earned her Bachelor of Arts in International Relations and Political Science, her Master of Public Administration from FIU, and a Six Sigma Certificate from the University of Miami. Lieutenant Governor Nuñez has served in the past as an adjunct professor at Florida International University.  She is also a graduate from Leadership Miami. Lieutenant Governor Nuñez attends Christ Fellowship West Kendall Campus. Lieutenant Governor Nuñez is married to her husband of 23 years, Adrian Nuñez, and together they are the proud parents of three children – Megan age 20; Justin, age 17; and Jason, age 12.
–
David M. Drucker is a senior correspondent for the Washington Examiner, where he focuses on Congress, campaigns, and national political trends. Prior to joining the Washington Examiner, he was a reporter for Roll Call, a newspaper in Washington, D.C. Before joining Roll Call, Drucker covered California politics, and Gov. Arnold Schwarzenegger, from the Sacramento bureau of the Los Angeles Daily News. Drucker graduated from UCLA with a BA in history, and spent eight years managing a family-run manufacturing business in Southern California, giving him a unique perspective on how what happens inside the Beltway affects the rest of the country. Drucker is a Vanity Fair contributing writer and regular on cable news and nationally syndicated radio programs. A native of Los Angeles, Drucker resides on Capitol Hill with his wife and two sons.
Listen to Breaking Battlegrounds Podcast on
Spotify Podcasts: https://spoti.fi/3SVvOF4
Apple Podcasts: https://apple.co/3eeEis7