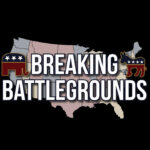 This week on Breaking Battlegrounds, friend of the show Mark Joseph Mongilutz returns to discuss the column he wrote for us recently, How to Prevent AI from Tricking Us in the 2024 Election. Later in the program, Jimmy Quinn of the eNational Review calls in to discuss the threat China poses to the US.
Mark Joseph Mongilutz is a writer, editor, author, and occasional book consultant. He is presently working as a full-time content manager for Haymaker, a finance-focused Substack newsletter, and has recently launched Opinions Impending (also on Substack), via which he will share his political/cultural writings on a semi-weekly basis.
Mark is the author of Solemn Duty in the Old Guard (2018) and editor of Voices of the 9/11 Pentagon Recovery Effort: Essays from the U.S. Army's Old Guard (2020).
Originally from Western Washington, Mark now lives in Scottsdale, Arizona.
Jimmy Quinn is the national security correspondent for National Review. He was previously a William F. Buckley Jr. Fellow in Political Journalism at National Review Institute.