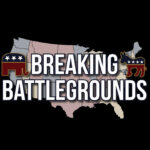 This week on
Breaking Battlegrounds
, Chuck sits down with former Congressman Matt Salmon who is currently running to be Arizona's next governor. Later in the show, Albert Eisenberg of Real Clear
Politics
calls in with a look at how Harvard stifles diversity of thought on campus.
Raised in Tempe, Matt attended public schools, graduated from Arizona State University, and later earned a master's degree from Brigham Young University. After completing his education, he worked as an executive with a major telecommunications firm in Arizona.
Matt's career in public service began in 1990 when he defeated an incumbent member of the Arizona Senate in the Republican primary. Four years later, he was elected to represent Arizona's First Congressional District in the U.S. House of Representatives.
During his time in Congress, Matt was named a "Defender of Liberty" and earned the "Taxpayer Hero" award from Citizens Against Government Waste. Among Matt's many legislative accomplishments was the sponsoring and passing of "Aimee's Law," a measure that gave "no second chances" for rapists, molesters, and murderers.
After honoring his term limit pledge and leaving Congress in 2001, Matt went back to the private sector where he experienced firsthand the obstacles many Arizonans face when trying to grow a small business. As he watched the size of our government and our national debt explode and our individual freedoms shrink, he decided to return to public service.
With support from conservative leaders across the country, Salmon was twice elected to represent Arizona's Fifth Congressional District.
Matt was a leader in the fight to repeal Obamacare and replace it with a system that offers more affordable options to patients and puts them in charge of their healthcare – not government bureaucrats. He also served as chairman of the Subcommittee on the Western Hemisphere, a committee of particular importance to border states like Arizona, where he worked to help secure the release of U.S. Marine Sgt. Andrew Tahmooressi after he was imprisoned in Mexico.
Albert Eisenberg is a millennial political consultant based in Philadelphia and Charleston, SC. He is a MaverickPAC Future 40 awardee and co-founder of the non-profit media outlet Broad + Liberty.
Since beginning to build his own business at the age of 24, Albert has served on campaigns and advised causes from local to national, including running communications for statewide campaigns in multiple states, serving as senior advisor to the Woodson Center and its 1776 Unites campaign, building an urban GOP in his home city of Philadelphia, and creating unique bridges between the LGBT community and Republican candidates in a score of states and swing Congressional Districts.
Albert's writing has appeared in Fox News, RealClearPolitics, National Review, The Washington Examiner, and the Philadelphia Inquirer, where he was the youngest op-ed columnist (and only conservative!) before being defenestrated for wrong-think. Albert cares about diversifying the American Right, combatting media bias & opening the "Overton Window" of allowable public discourse. In his spare time he is a cat dad and recently completed a full gut renovation of a rowhome in the Kensington section of Philadelphia.
Listen to Breaking Battlegrounds Podcast on
Spotify Podcasts: https://spoti.fi/3SVvOF4
Apple Podcasts: https://apple.co/3eeEis7