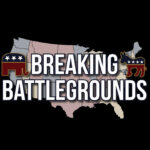 This week on
Breaking Battlegrounds
, Chuck and Sam are joined by Matthew Continetti, senior fellow at the American Enterprise Institute and author of the new book
The Right: The Hundred-Year War for American Conservatism
. Later in the show, we check in with Tom Horne, Republican candidate for Arizona Superintendent of Public Instruction.
–
Matthew Continetti is a senior fellow at the American Enterprise Institute (AEI), where his work is focused on American political thought and history, with a particular focus on the development of the Republican Party and the American conservative movement in the 20th century.
A prominent journalist, analyst, author, and intellectual historian of the right, Mr. Continetti was the founding editor and the editor-in-chief of The Washington Free Beacon. Previously, he was opinion editor at The Weekly Standard.
Mr. Continetti is also a contributing editor at National Review and a columnist for Commentary Magazine. He has been published in The Atlantic, The New York Times, The Wall Street Journal, and The Washington Post, among other outlets. He also appears frequently on Fox News Channel's "Special Report" with Bret Baier and MSNBC's "Meet the Press Daily" with Chuck Todd.
Mr. Continetti is the author of two books: "The Persecution of Sarah Palin: How the Elite Media Tried to Bring Down a Rising Star" (Sentinel, 2009) and "The K Street Gang: The Rise and Fall of the Republican Machine" (Doubleday, 2006).
He has a BA in history from Columbia University.
–
Tom Horne is a candidate for Arizona Superintendent of Public Instruction. Mr. Horne has served both his community and our state impressively in several elected offices: Paradise Valley School Board member and president; Legislator where he was chair of the academic accountability committee; Arizona Superintendent of Public Instruction; and, Arizona Attorney General. As Superintendent, he is most famous for enforcing the English immersion mandate for mostly Spanish-speaking children and getting rid of La Raza studies in Tucson schools. As Attorney General, he earned acclaim for winning lawsuits for Arizona that he argued before the U.S. Supreme Court.
Listen to Breaking Battlegrounds Podcast on
Spotify Podcasts: https://spoti.fi/3SVvOF4
Apple Podcasts: https://apple.co/3eeEis7