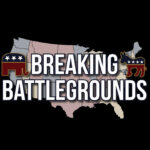 This week on Breaking Battlegrounds, Chuck and Sam are joined by former Secretary of State and former CIA Director Mike Pompeo. Later in the show, Brian Domitrovic calls in to talk about Biden's inflation.
–
Michael R. Pompeo served as the 70th Secretary of State of the United States, the Director of the Central Intelligence Agency and was elected to four terms in Congress representing the Fourth District of Kansas. He is a distinguished fellow at Hudson Institute, where he focuses on promoting U.S. national security, technological leadership and global engagement. Mike graduated first in his class from the United States Military Academy at West Point in 1986. He served as a cavalry officer in the U.S. Army, leading troops patrolling the Iron Curtain, rising to the rank of Captain. Mike left the military in 1991 and then graduated from Harvard Law School, having served as an editor of the Harvard Law Review. Up next was almost a decade leading two manufacturing businesses in South Central Kansas – first in the aerospace industry and then making energy drilling and production equipment. These two companies made real stuff and provided high – quality jobs for hundreds of hard-working Kansans. In 2010, Mike watched government grow too big and decided to run for Congress. He won and was re-elected three more times to represent South Central Kansas – the heartland of America. Despite being an outsider and fairly junior, Mike played important roles on the House Benghazi and House Intelligence Committees, working to keep our soldiers and diplomats safe and America more secure. Becoming America's most senior spy, the Director of the Central Intelligence Agency, was Mike's next chance to champion American values. He improved collection and operations and made sure that American leaders had the best information in the world to make decisions that impacted the lives of every American and the generations behind us. President Donald Trump saw that good work and decided to make Mike America's 70th Secretary of State. As our nation's most senior diplomat in the Trump Administration and President Trump's chief negotiator, Mike helped to craft U.S. foreign policy based on our nation's founding ideals that put America First. America became a massive energy exporter and a force for good in the Middle East with real peace cemented in the Abraham Accords. Mike placed special emphasis on renewing alliances with key allies, including India, Japan, Australia, and South Korea. He also led a return to America's founding principles and a focus on every human life being worthy and the protection of the unborn. The largest human rights gatherings ever held at the State Department occurred under his leadership. Mike's time at the State Department marked the end of naïve engagement with the Chinese Communist Party, pulling back the curtain shielding the egregious acts of the CCP that threaten American jobs and freedoms. He focused efforts on calling out and punishing perpetrators of attacks on basic human dignity in places like Cuba and Venezuela, North Korea, Iran, Nigeria, China and elsewhere. Mike also led a team that executed America's largest ever global repatriation effort in the wake of the COVID-19 pandemic. Married to Susan, Mike and his wife have one son, Nick. The Pompeos dedicated many volunteer hours to their home church — including teaching 5th grade Sunday School and Mike's time as a church Deacon. The Pompeos also volunteered on numerous educational, fine arts and local government programs and projects. Nick's Dad also went undefeated as a coach of his son's 3 on 3 team in summer league. Mike and Susan's two retrievers, Sherman and Mercer, each named after important American generals, are patriots too!
–
Brian Domitrovic is the Richard S. Strong Scholar at the Laffer Center in Nashville. He is the author or editor of six books including the standard history of supply-side economics, "Econoclasts" (2009). His forthcoming book, "Taxes Have Consequences," co-authored with Art Laffer and Jeanne Sinquefield, recounts how the income tax's top rate has determined the fate of the American economy since it was first adopted in 1913.
Listen to Breaking Battlegrounds Podcast on
Spotify Podcasts: https://spoti.fi/3SVvOF4
Apple Podcasts: https://apple.co/3eeEis7