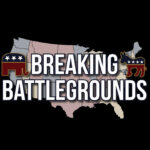 Welcome back to another episode of Breaking Battlegrounds. First up is Orlando Sonza, a U.S. Army Veteran and dedicated Ohioan running in Ohio's First Congressional District. Raised in New Jersey and a West Point graduate, Orlando's journey is a testament to his diverse background and commitment to service. Our second guest is Jason Willick, an Opinion columnist at The Washington Post where he primarily writes about legal matters, political ideas, and foreign affairs. In this episode, he delves into the timely topic of Hunter Biden and the Trump indictments. Don't miss this engaging conversation that brings thought-provoking insights and expert analysis to the forefront.
Orlando Sonza is a proud Ohioan. A second generation Filipino American, Orlando was raised in New Jersey and attended the United States Military Academy at West Point. While there he met his wife, Jessica, a Mexican/Filipino American, fellow Academy classmate, and Cincinnati native.
Orlando graduated top ten in his class at West Point where he majored in political science and minored in systems engineering. Upon graduation, he and Jessica both commissioned as second lieutenants in the U.S. Army. Orlando served on active duty as an Infantry Officer and Finance Officer with the 3rd Infantry Division at Fort Stewart, Georgia.
Jason Willick writes a regular Washington Post column on legal issues, political ideas and foreign affairs. Before coming to The Post in 2022, he was an editorial writer and assistant editorial features editor for the Wall Street Journal, and before that a staff writer and associate editor at the American Interest.