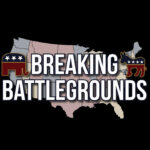 This week on
Breaking Battlegrounds
, Chuck and Sam are joined by Patrick Leddin, author of the Five-Week Leadership Challenge, and Kelly Sadler, commentary editor for the Washington Times.
Patrick Leddin served as a U.S. Army airborne, infantry, ranger-qualified officer; worked as a Project Manager at KPMG Consulting; and co-started and ran a Inc. 5000 recognized consulting firm. His speaking engagements and consulting work have allowed him to partner with clients and present to countless audiences in the United States, Canada, China, Malaysia, Singapore, Great Britain, Aruba, Iceland, Germany, Denmark, Belgium, Guam, and many other countries around the world. In addition to his work at Leddin Group, Patrick is an Associate Professor at Vanderbilt University where he teaches Negotiation and Leading Business in Times of Crisis.
Kelly Sadler is the Commentary Editor and a columnist for The Washington Times. Often seen as a Newsmax contributor, Ms. Sadler started out as a beat reporter at Bloomberg News, and later covered politics and commentary during the 2016 presidential election at the Washington Times. Ms. Sadler is a Trump Administration alum, serving as a Special Assistant to the President, where she coordinated surrogate coverage and talking points. She most recently served as the communication director for America First Action.
Listen to Breaking Battlegrounds Podcast on
Spotify Podcasts: https://spoti.fi/3SVvOF4
Apple Podcasts: https://apple.co/3eeEis7