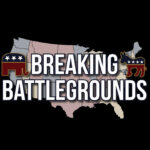 This week on
Breaking Battlegrounds
, Chuck and Sam have a packed schedule with three fantastic guests: Paul Boardman, Chairman of the DeCouple China PAC, followed by Washington Times reporters Haris Alic and Jeff Murdock.
Paul Boardman began his career in 1983 as advance staff for President Ronald Reagan and as a fundraiser for Sen. G Richard Lugar (IN) at the National Republican Senatorial Committee in Washington, DC. Paul Boardman was a 'Contract with America' signer and the Republican nominee for the U.S. House of Representatives in the West Lost Angeles California 29th district opposing Congressman Waxman. Boardman is a Made in USA, Buy USA advocate. Currently Chairman of DeCouple China PAC from 2001 to present. Paul has led IG, Inc., a for-profit, Federal government and commercial market procurement consulting firm.
Haris Alic is a reporter for The Washington Times covering Congress and energy issues. Before joining the paper, Alic worked at Breitbart News where he was the lead political reporter covering President Joe Biden and the 2020 campaign. Originally from New York, he got his start in journalism as a staff writer at the Washington Free Beacon.
Jeff Mordock is the White House reporter for The Washington Times and previously the Justice Department reporter for The Washington Times. A native of Newtown, Pennsylvania, he previously worked for Gannett and has won awards from both the Delaware Press Association and the Maryland Delaware D.C. Press Association. He is a graduate of George Washington University.
Listen to Breaking Battlegrounds Podcast on
Spotify Podcasts: https://spoti.fi/3SVvOF4
Apple Podcasts: https://apple.co/3eeEis7