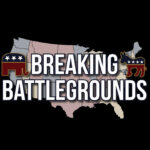 Join us for this week on Breaking Battlegrounds where Chuck Warren and Sam Stone dive into a diverse range of compelling topics with our esteemed guests. In our first segment, Congressman Ralph Norman of South Carolina's 5th Congressional District provides valuable insights into the impact of housing interest rates, the specter of inflation, the looming government shutdown, and his role as a surrogate for Presidential candidate Nikki Haley.
We then shift gears in the second segment, featuring political reporter Jon Levine from the Sunday New York Post. Jon takes us on a captivating journey, sharing his experiences dressing as Senator Fetterman and exploring the culinary world of New York's finest restaurants. In the latter part of our discussion with Jon, we delve into the complex world of Hunter Biden and the Biden Administration.
Finally, we welcome back Alexander Raiken to provide answers to Chuck's question posed last week.
And that's not all! Kiley Kipper delves into two new cases that captivated her attention in this week's Kiley's Corner segment. First, she unravels the mystery of Thea Chase, a 2-year-old who was reported missing, only to be found asleep on her dog, three miles from home, four hours later. Then, we explore the tragic case of Adam Simjee and Mikayla Paulus, a couple who pulled over to help a stranded woman, only for Adam to be shot and killed. This week, Yasmine Hider pleaded guilty to second-degree murder in connection with this shocking incident.
ABOUT OUR GUESTS
Congressman Ralph Norman is a lifelong resident of South Carolina's 5th district. After graduating from Rock Hill High School in 1971, he attended Presbyterian College in Clinton, SC, and graduated in 1975 with a Bachelor of Science degree in Business. After college, he joined his father's construction business and helped grow it into one of South Carolina's most successful commercial real estate developers.
Over the course of his career, Ralph has served with a number of organizations dedicated to improving the community, including the York County Home Builders Association, the Children's Attention Home, the Salvation Army, and the Medical University of South Carolina Board of Visitors.
He has consistently demonstrated his dedication to conservative principles. Throughout his political career in the South Carolina House of Representatives and the U.S. House of Representatives, he has consistently voted in favor of limited government, individual liberties, and sound financial policies.
Ralph married Elaine Rice Norman on December 28,1974. Elaine also is a lifelong resident of South Carolina, growing up in Belton. Together, they have 4 adult children: Warren, Anne, Mary Catherine, and Caroline, 17 grandchildren.
Jon Levine is a political reporter for the Sunday New York Post. His work covers city, state and national politics. He has worked on significant continuing stories and investigations, including Hunter Biden and the 2020 presidential election. A native New Yorker, he previously worked as a media reporter for TheWrap and Mediaite. His work has been featured on CNN.com, The Atlantic, and the Chronicle of Higher Education. When he's not working, he's thinking about work.
Alexander Raikin is a freelance journalist and a writer interested in medical ethics and bad statistics. His writings have been published in City Journal and The New Atlantis. Alexander is also a research fellow with Do No Harm. He can be found on Twitter at @AlexanderRaikin.