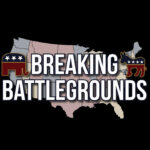 This week on
Breaking Battlegrounds
, we are joined by two incredible guests: former Secretary of Defense, Mark Esper, and
Congressman
Don Bacon of Nebraska's 2nd District.
Dr. Mark T. Esper became the 27th Secretary of Defense in July 2019 when he was confirmed in an overwhelming 90-8 vote by the U.S. Senate in rare bipartisan fashion. Esper went on to successfully lead the Defense Department through an unprecedented time in the nation's history: from conflict with Iran, an ongoing military campaign in Afghanistan, and counter-terrorism operations in the Middle East; to open competition with China and Russia amidst a fundamental shift in the geo-strategic environment; and from the greatest civil unrest and political turmoil America has seen in decades, to a major recession and the spread of a global pandemic the world had not experienced in over 100 years, all while dealing with an unpredictable White House.
As Defense Secretary, Esper was responsible for ensuring the United States' national security, protecting the American people at home and abroad, and advancing the country's interests globally. In this capacity, he led the largest and most complex organization in the world given its nearly three million service members and defense civilians, $740 billion annual budget, and trillions of dollars of weapons, equipment, and infrastructure located at 4,800 sites in over 160 countries. Esper's broad scope of responsibilities ranged from organizing, manning, training, and equipping the joint force, to the research and development of future weapons, concepts, and equipment; and from defense trade, diplomacy, and cybersecurity, to healthcare, hospitals, housing, and schools.
Dr. Esper made major strides in shaping and implementing the National Defense Strategy, which called for a return to preparing for high intensity conflict in a new era of great power competition principally against China and Russia. To this end, Esper established the Space Force and Space Command, proposed a dramatic change in the size and composition of the U.S. Navy, enhanced the resourcing and operations of Cyber Command, and led a major reform effort that reorganized the department and freed up billions of dollars for higher priorities. He worked hard to strengthen alliances and grow new partners, especially in the Indo-Pacific and Europe, and helped drive a major increase in the readiness and capability of NATO members, all while advancing new warfighting, operational, and readiness concepts in the U.S. military.
Esper also oversaw the largest R&D budget in the department's history, drove spending on cutting-edge technologies such as Artificial Intelligence, directed energy, advanced networking, robotics, and hypersonics, and launched the biggest initiative in decades to improve diversity and inclusion in the armed forces.
Prior to becoming Defense Secretary, Dr. Esper served as the 23rd Secretary of the Army from November 2017 until June 2019. In this capacity, he was responsible for over 1.5 million active, Guard, and Reserve Soldiers and Army civilians, a budget of $180 billion annually, and all aspects of leading the world's most capable ground combat force. During his tenure, Esper launched a renaissance in how the Service organized, manned, trained, and equipped the force as it shifted its focus back toward large-scale combat operations against great power competitors.
Dr. Esper was a reformer who spearheaded an extensive review process dubbed "night court" that reduced organizational inefficiencies and eliminated scores of programs to free up funding for critical modernization initiatives. He also established a new U.S. Army Futures Command designed to improve the Army's acquisition process and bolster its broader effort to field a modern force capable of fighting in all domains. Finally, he directed an overhaul of Army recruiting standards and processes, the lengthening and toughening of Infantry Basic Combat Training, and the development of a new Talent Management system for the service, all while advancing important initiatives for Army spouses and families.
Growing up and working on a farm in Illinois, Congressman Don Bacon learned first-hand how the value of hard work and commitment contributes to the success of a small business. He moved from the family farm to attend Northern Illinois University, from which he graduated with a Bachelors of Political Science in 1984, the same year he married Angie, the love of his life. They have three sons, one daughter, and six grandchildren. One year later, he began his military career by joining the U.S. Air Force and serving nearly 30 years, ultimately retiring as a Brigadier General.
During his career in the Air Force, Congressman Bacon specialized in electronic warfare, intelligence and reconnaissance. His career highlights include two tours as a Wing Commander, at Ramstein Airbase in Germany and Offutt Air Force Base in Bellevue, Nebraska; group command at Davis-Monthan Air Force Base in Arizona; squadron command in Arizona, and expeditionary squadron command in Iraq. In total, Rep. Bacon served 16 assignments including four deployments in the Middle East to include Iraq in 2007 to 2008 during Operation IRAQI FREEDOM.
Congressman Bacon's military decorations include the Air Force Distinguished Service Medal, two Bronze Stars, two Legion of Merits, five Meritorious Service Medals, and the Aerial Achievement Medal. Additionally, he was selected as Europe's top Air Force Wing Commander for his time at Ramstein Airbase, as well as recognized as a distinguished graduate of the Air Command and Staff College, Navigator-Electronic Warfare School, and Officer Intelligence School. Further, Congressman Bacon has earned two Masters Degrees, from the University of Phoenix in Arizona and the National War College in Washington D.C.
Upon his retirement from the Air Force in 2014, Congressman Bacon served as the military advisor to Congressman Jeff Fortenberry (NE-01), where he specialized in military affairs focusing on Offutt Air Force Base and the Nebraska National Guard. He also was an Assistant Professor at Bellevue University where he taught Undergraduate Leadership along with American Vision and Values (The Kirkpatrick Signature Series), until his 2016 election to Congress, representing Nebraska's Second Congressional District.
Presently, Congressman Bacon serves on two committees within the House of Representatives: the House Armed Services Committee, and the House Agricultural Committee.
Listen to Breaking Battlegrounds Podcast on
Spotify Podcasts: https://spoti.fi/3SVvOF4
Apple Podcasts: https://apple.co/3eeEis7