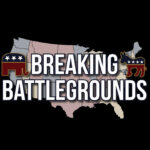 This week on
Breaking Battlegrounds
, Chuck and Sam are joined by Senator Mike Lee of Utah and Matt Gress, a Republican running for the Arizona State House in
Legislative
District 4.
Elected in 2010 as Utah's 16th Senator, Mike Lee has spent his career defending the fundamental liberties of all Americans and advocating for America's founding constitutional principles. Senator Lee serves as the Ranking Republican on the Judiciary Subcommittee on Antitrust, Competition Policy, and Consumer Rights, and on the Energy and Natural Resources Subcommittee on Public Lands, Forests, and Mining.
In addition, Senator Lee continues to lead Republicans on the Joint Economic Committee as the Ranking Member, after spending the last two Congresses as Vice Chairman and Chairman, respectively. He also serves on the Senate Commerce Committee and the Senate's Special Committee on Aging.
Lee graduated from Brigham Young University with a degree in Political Science, and served as BYU's Student Body President in his senior year. He graduated from BYU's Law School in 1997 and went on to serve as law clerk to Judge Dee Benson of the U.S. District Court for the District of Utah, and then with future Supreme Court Justice Judge Samuel A. Alito, Jr. on the U.S. Court of Appeals for the Third Circuit.
Matt Gress is an Arizona conservative, running to represent us in the State House. Matt believes in common sense principles like small government, balanced budgets and individual liberty.
From 2017 to 2021, Matt served as a Governing Board Member in the Madison Elementary School District. Where he fought to keep schools open during COVID-19, supported increased school choice and advocated for parents and taxpayers to have a seat at the table in curriculum, hiring decisions and budgeting, including expensive procurement contracts.
Matt has served as a faculty associate at Arizona State University and as a budget analyst at the Arizona State Capitol, learning exactly where our tax dollars go. Currently, he serves as the state's top budget chief in the Arizona Governor's Office of Strategic Planning and Budgeting.
Listen to Breaking Battlegrounds Podcast on
Spotify Podcasts: https://spoti.fi/3SVvOF4
Apple Podcasts: https://apple.co/3eeEis7