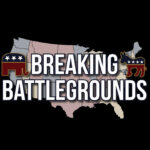 This week on Breaking Battlegrounds, we are honored to be joined by three distinguished guests. First, we sit down with Senator Ted Cruz to discuss the recent political attacks on the Supreme Court and what conservatives can do about woke corporations. Later in the show, General Sami Sadat of Afghanistan calls in for a no holds barred conversation of the United States' withdrawal from his country. Finally, friend of the show Chris Campbell returns with an update on the negotiations over raising the debt ceiling.
Ted Cruz grew up in Texas. His father, Rafael, fled Cuba after being tortured and imprisoned and came to Texas with just $100 sewn into his underwear. Rafael got a job washing dishes making 50 cents an hour and learned English. He worked hard and attended the University of Texas at Austin, earning a degree in mathematics. He later started a small business in the oil and gas industry. Today, Rafael is a pastor in Dallas.
Ted's mother, Eleanor, was born in Delaware to an Irish and Italian working-class family. She became the first in her family to go to college, graduating from Rice University with a degree in mathematics. She broke boundaries at Shell as one of the few women working as a computer programmer at the dawn of the computer age.
Ted earned his undergraduate degree from Princeton and his law degree from Harvard Law School. After law school, Ted clerked for Chief Justice Rehnquist and then worked in private practice. In 1999, Ted joined George W. Bush's campaign for president as a domestic policy advisor. The best thing about Ted's experience on the Bush-Cheney campaign, by far, was meeting Heidi Nelson, who also worked on the policy team. Heidi and Ted married after the campaign.
After working at the Department of Justice and the Federal Trade Commission during the Bush administration, Ted moved back home to be the Solicitor General of Texas. As Solicitor General, Ted argued eight cases before the Supreme Court of the United States, and defended our freedom of speech, our right to keep and bear arms, and our religious liberty in courts across the nation. Following his service as Solicitor General, Ted returned to private practice, where he continued to litigate high stakes cases and argued his ninth case before the Supreme Court.
Ted and Heidi also started their family, welcoming Caroline and Catherine.
General Sami Sadat was born 1986 in Afghanistan. After graduation from school in Kabul, he studied military information operations in NATO school in Germany, he also holds a BBA, he then studied advance command and staff college in UK defense Academy and was graduated with highest distinction and also has finished his MA in Strategic Management and Leadership from UK Charter Management institute.

His work experience is mostly visible in security sector, he worked as Deputy Director for Strategic Communications and as Policy Advisor to the Minister of Interior in Afghanistan. Mr. Sadat is a founding member of Afghanistan Analysis and Awareness (A3) a Kabul based Think-tank. A3 is a strong lobby group focusing on Afghan-US and other Afghanistan friend countries to foster better strategic relations.
Prior to Kroll, Chris was unanimously confirmed by the U.S. Senate to serve as the Assistant Secretary of the Treasury for Financial Institutions from 2017 to 2018. In that role, he was responsible for coordinating the Department's efforts regarding financial institutions legislation and regulation, legislation affecting federal agencies that regulate or insure financial institutions and securities markets legislation and regulation. Specific policy and program areas of oversight included government-sponsored enterprises, critical infrastructure protection (cyber security) and compliance policy, the Federal Insurance Office (FIO), small business, community development and affordable housing policy.
Chris was the Treasury board representative on the boards of the Pension Benefit Guarantee Corporation (PBGC) and the Financial Industry's Critical Infrastructure Group. He regularly met with the heads of the 15 federal financial regulators. Additionally, he oversaw the Deputy Assistant Secretaries for Financial Institutions Policy and Small Business, Community Development and Affordable Housing, and Cyber Security, in addition to a staff of 200.
Prior to his role at the Treasury department, Chris was the majority staff director to the U.S. Senate Committee on Finance. He designed, managed and coordinated the U.S. Senate Republican agenda in the areas of international and domestic taxation, international trade, Medicare, Medicaid, Social Security, the U.S. National Debt, and oversight of three presidential cabinet secretaries. He was named by Roll Call Newspaper as one of the 50 most influential staffers on Capitol Hill, seven years running. Previously, he served as legislative director to Senator Orrin G. Hatch, where he coordinated and managed the senator's legislative activities.
Immediately prior to rejoining Senator Hatch's staff, Chris owned a business consulting firm that specialized in business strategy for clients from all-sized companies across the country, and from a variety of industries.
Chris is a director of Intrado, Coinstar, WeConnect Health Management, tZERO, and a board advisor at Cross River Bank. Additionally, he is a Professor of Practice at his alma matter, Thunderbird School of Global Management. He also serves as a strategic advisor and consultant to several large national and international organizations. He is a member of the Council on Foreign Relations.
He holds an MBA from Thunderbird School of Global Business Management and a bachelor's degree in political science from the University of California, Santa Barbara.