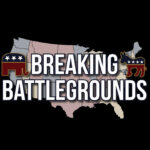 This week on
Breaking Battlegrounds
, Sam and Chuck are joined in studio by Stanley Roberts. Later in the program, Quin Hillyer of the Washington Examiner joins the show a look at some big stories the mainstream media is ignoring.
Stanley Roberts is an independent journalist with 30 years of experience. He recently founded Mr Badly Productions LLC with the goal of educating the public, the rules of the road and basic human etiquette. He is the original creator of the People Behaving Badly which was found on the deleted TVMan1981 YouTube channel.
Quin Hillyer is a senior commentary writer and editor for the Washington Examiner. He is also a contributing editor for National Review Online and is a former executive editor for the American Spectator. He has served in senior roles for the Washington Times, the Mobile Register, the Arkansas Democrat-Gazette, and Gambit New Orleans Weekly and has been published in almost every major newspaper in the nation. A New Orleans native and cum laude graduate of Georgetown University, he is the author of the Mad Jones trilogy of satirical novels. He lives in Mobile, Alabama.
Listen to Breaking Battlegrounds Podcast on
Spotify Podcasts: https://spoti.fi/3SVvOF4
Apple Podcasts: https://apple.co/3eeEis7