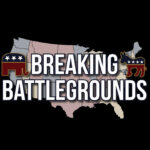 This week on
Breaking Battlegrounds
, Sam and Chuck are joined by Maricopa County Recorder,
Stephen Richer
. He was elected in November 2020 and took office January 2021. Since then, Stephen and his office have been at the forefront of the national discussion over election integrity.
Prior to his election as Recorder, Stephen worked as a lawyer and business person. He holds a bachelor's degree from Tulane University, a master's degree from the University of Chicago, and a J.D. from the University of Chicago Law School. Stephen and his wife live in South Phoenix.
Listen to Breaking Battlegrounds Podcast on
Spotify Podcasts: https://spoti.fi/3SVvOF4
Apple Podcasts: https://apple.co/3eeEis7