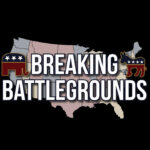 This week on
Breaking Battlegrounds
, Chuck and Sam are joined by a fantastic lineup of guests. First, Anna Giaritelli of the Washington Examiner brings us the story of the US fentanyl crisis. Later in the show, Lingling Wei of the Wall Street Journal breaks down Shanghai's Omicron lockdowns. Finally, Professor Michael Kimmage of the Catholic University of America gives us an expert look at the Russia's
war in Ukraine
.
–
Anna Giaritelli is the homeland security reporter for the Washington Examiner, covering the department, U.S. border, and policies related to cybersecurity, immigration, and transportation. She joined in 2015 after reporting for CQ Roll Call and Cox Media Group, as well as a communications role at an immigration policy organization. Giaritelli has broken stories on leadership turnover within Border Patrol, corruption and infighting within U.S. Customs and Border Protection, and the effects of Trump administration policies on migrants. She is a commentator on national radio and TV outlets, including C-SPAN, Fox News, Sky News, and Sirius XM. Her work has appeared in RealClearInvestigations, Yahoo! News, the Oregonian, and Equine Journal. She earned a bachelor's degree in journalism from Asbury University.
–
Lingling Wei is the chief China correspondent for The Wall Street Journal and co-author of "Superpower Showdown." She covers China's political economy, focusing on the intersection of business and politics. Born and raised in China, she has a M.A. in journalism from N.Y.U., got her start covering U.S. real estate, and has won many awards for her China coverage. In 2021, she's among a team of reporters and editors whose work was a Pulitzer Prize finalist. Follow her on Twitter: @Lingling_Wei
–
Michael Kimmage is a professor of history and department chair at the Catholic University of America. He is also a fellow at the German Marshall Fund. From 2014 to 2017, he served on the Secretary's Policy Planning Staff at the U.S. Department of State, where he held the Russia/Ukraine portfolio. He publishes widely on international affairs, U.S.-Russian relations and American diplomatic history. His latest book, The Abandonment of the West: The History of an Idea in American Foreign Policy, was published by Basic Books in April 2020. He is the chair of the Kennan Institute Advisory Council.
Listen to Breaking Battlegrounds Podcast on
Spotify Podcasts: https://spoti.fi/3SVvOF4
Apple Podcasts: https://apple.co/3eeEis7